Call the midwife: Maddow goes to meddling & collusion expert Nuland for tips on Trump-Putin puppetry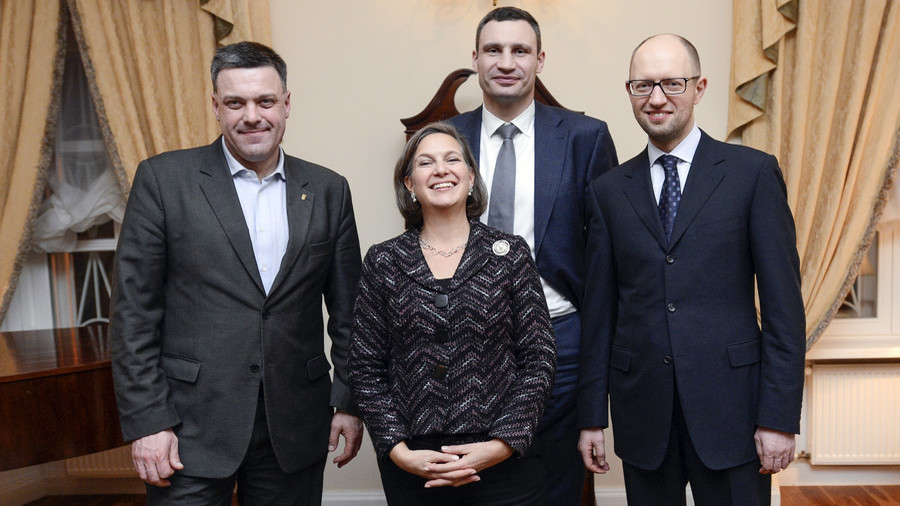 Rachel Maddow, the star MSNBC anchor who is obsessed with the Trump-Russia collusion conspiracy theory, found the perfect 'expert' to ask about orders Vladimir Putin might give to Donald Trump: Victoria 'F**k the EU' Nuland.
Maddow's disdain for the incumbent US president, and her propensity to speculate that Trump may be a Kremlin puppet bent on destroying the Western world to please Russian President Putin, is well-documented.
In Thursday's episode of her show, the MSNBC anchor bemoaned Trump's threats to withdraw from NATO and how his abrasive manners were offensive to other allies. No mention was made of Trump berating Germany over energy cooperation with Russia, though.
Then she interviewed a guest about Trump's upcoming meeting with Putin in Helsinki, Finland, asking in a most peculiar manner what the Russian leader may want from it.
"We are told that President Trump has tried to arrange the meeting so that at one point in the summit it will be him and President Putin in a room with no other Americans. As far as I understand, not even an American translator there," Maddow said. "So if President Putin were hypothetically in some sort of a position where he could give orders to an American president behind closed doors and no other American would know what those orders would be, if he had this sort of magic wand, what would be the thing he would want most? What kind of order would he give?"
She couldn't have found a person better qualified to comment on ordering around foreign governments: Victoria Nuland, former US ambassador to NATO in the George W. Bush administration and former assistant secretary of state for Eurasia under the Obama administration.
Nuland and the US ambassador to Ukraine Geoffrey Pyatt were photographed handing out pastries to anti-government protesters in Kiev. She became notorious, however, after a conversation between her and Pyatt in February 2014 was posted online. While Nuland's vulgar dismissal of the EU may have stolen the headlines, the topic of their conversation was arguably more scandalous, since the two US diplomats discussed who should and should not be in the new Ukrainian government. Two weeks later, US-backed protesters violently deposed Ukraine's democratically elected president.
READ MORE: 'F**k the EU': Snr US State Dept. official caught in alleged phone chat on Ukraine
The insight into Putin's wishes Nuland offered was devoid of surprises: Money in the form of sanctions relief, a Syria deal, recognition of Crimea as part of Russia and cancellation of NATO exercises in the Baltic Sea, because if Kim Jong-un got it, why wouldn't Putin? Maddow suggested that pulling the rug out from under NATO would be good for Putin too. Nuland agreed.
"He'd want more trouble between us and our closest allies like Germany," she said.
Last month, the State Department cited the D-Day landing of Allied troops in occupied France as an example of the "long history" and "strong relationship" between the US and Germany.
Like this story? Share it with a friend!