Controversial gun that looks like a smartphone enters full production in US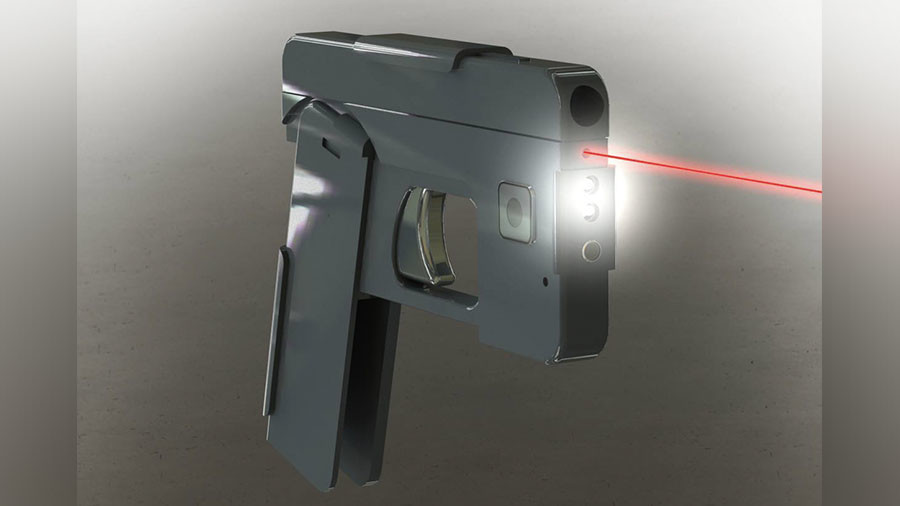 Is that a cell phone in your hand, or a handgun? The improbable question might soon become difficult to answer, as a controversial smartphone-shaped pistol enters full production in the US.
The firearm is the brainchild of Minnesota-based firm Ideal Conceal, with the manufacturer currently looking to fill over 12,000 pre-orders from eager customers and dealers across the US, after a string of production delays pushed the gun's planned release from its planned 2016 debut.
When folded, the double-barreled derringer simply looks like a large-ish smartphone and cannot be fired. However, the 'smartphone' can unfold into a grip, activating the gun for shooting without the need for 'cocking.' It carries two rounds of .380 ammunition that can be fired sequentially.
A holster for the gun similar to a cell phone case is also available, and the gun can be activated and fired while still attached. A laser pointer can also be added.
The company is developing a holster that could carry additional rounds but acknowledges there may not be a pressing need for those.
"Most studies show that by the time two shots have been fired somebody's down or running," Ideal Conceal CEO Kirk Kjellberg said.
"I think a lot of people go out and they get a permit to carry and then they try to carry and they figure out either it's not that simple or someone sees them carrying and they stop," Kjellberg added. "So with this, it doesn't print in your pocket. It's square. Looks just like a cell phone. We've just left it laid on a table in a restaurant during a whole meal and nobody including the wait staff ever even looked at it."
"The shape of a smartphone is not a big deal to most people,"Kjellberg noted.
The National Rifle Association (NRA) promoted the smartphone-gun as a "featured product" at its annual pow-wow in May. It billed the weapon as a "great option for self-defense along with max concealment."
Alongside the NRA's ringing endorsement, the weapon has gained publicity from criticism by US gun control activists, who have been quick to speak out against the dangers of having a firearm that can be mistaken for a smartphone.
Of particular concern is that the existence of a gun that looks like a cellphone could increase the number of police shootings of African-American men, already a running concern in the US.
1. Even more people will be targeted by law enforcement b/c they "look" like they're carrying a weapon, especially POC 2. The NRA continuously advertises with human figures as targets, enforcing the normality of shooting other people... https://t.co/44EHxJLEAW

— Jaclyn Corin (@JaclynCorin) May 1, 2018
Jaclyn Corrin, who survived the February mass shooting at the Parkland, Florida high school and has since become an advocate for further gun control, tweeted that such products would result in police targeting even more "people of color."
"Even more people will be targeted by law enforcement b/c they 'look' like they're carrying a weapon, especially POC," she wrote.
Across the Atlantic, authorities have expressed concern that the firearm could soon wash up on the streets of European cities. In January 2017, Belgian police were sent an alert warning of the potential panic such a gun could cause after a string of terrorist attacks in 2016 and 2017 put the entire continent on edge.
"To the eye, nothing can distinguish it from a mobile telephone," said the Belgian police alert, reported by Dernière Heure newspaper. "Most people possess a smartphone, meaning that it can pass completely overlooked."
Despite being dubbed an "iphone gun," the Ideal Conceal's $500 price tag makes it significantly cheaper than Apple's $1,000 iPhone X.
Think your friends would be interested? Share this story!
You can share this story on social media: