Trump: Meeting Putin may be easier than attending UK & NATO summit
Published time: 10 Jul, 2018 13:20
Edited time: 11 Jul, 2018 08:13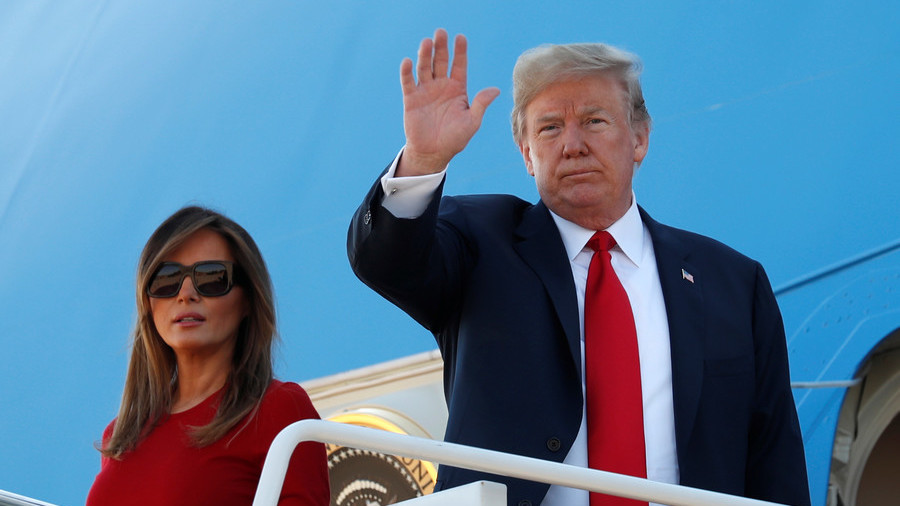 US President Donald Trump's first dedicated bilateral meeting with his Russian counterpart will probably be easier than his UK visit and NATO summit, he said before leaving for his European tour.
Trump outlined his plans for the upcoming days to journalists before boarding a helicopter.
"I have NATO, I have the UK, which is in somewhat turmoil, and I have Putin. Frankly, Putin may be the easiest of them all, who would think?" he said. Trump added that he considered Russia as America's competitor but that getting along with one, be it Russia or China, is "a good thing".
Trump's program for the European tour includes a two-day NATO summit in Brussels, a long-awaited visit to Britain and a stop in Helsinki, where his meeting with Putin is to take place.
Ahead of the meetings, the EU's Donald Tusk warned Trump that he should tone down his anti-European rhetoric, because the US doesn't have many allies. Trump later tried to play down the squabbling, saying Washington had enough allies, but stressed that it will not let them "take advantage" of the US.
The visit to British comes as the UK government is in turmoil after resignations of several ministers over the terms of the UK's divorce with the EU. Trump said he may meet now-former Foreign Minister Boris Johnson, whom he considered a good friend.
He told reporters: "Boris Johnson's a friend of mine, he's been very very nice to me, very supportive", and added, "I like Boris Johnson, I've always liked him."
The former British Foreign Secretary has been glowing about the US president in recent weeks, suggesting in a leaked Buzzfeed recording that "you might get somewhere" with Trump at the center of Brexit negotiations and that Johnson had "become more and more convinced that there is method in his madness."
Trump was not so fully supportive of the embattled UK Prime Minister Theresa May, however failing to endorse her leadership when asked if she could stay in power, replying: "That's up to the people."
The US president will hold talks with May at her country retreat Chequers, before meeting the Queen at Windsor Castle, and concludes his UK trip by touring his Scottish golf resorts.
READ MORE: 'Keep low profile' – US Embassy warns citizens ahead of Trump UK visit protests
Trump won't be hanging around in London for too long when he arrives, where it's thought thousands of protesters are expected to line the streets on Friday, accompanied by a giant blimp of a baby Donald Trump that will take to the skies to mark his visit.
The meeting with Putin is arguably the most attention-drawing leg of the tour, considering the accusations in the US that Trump owes his current office to the Russian president and that there may have been collusion between the Trump campaign and the Kremlin.
Trump denies such a collusion took place while the Russian government insists that it never meddled in the 2016 election.
Think your friends would be interested? Share this story!