18 wheeler-truck marooned on beach after taking wrong turn (VIDEO)
Published time: 6 Jul, 2018 11:29
Edited time: 7 Jul, 2018 08:28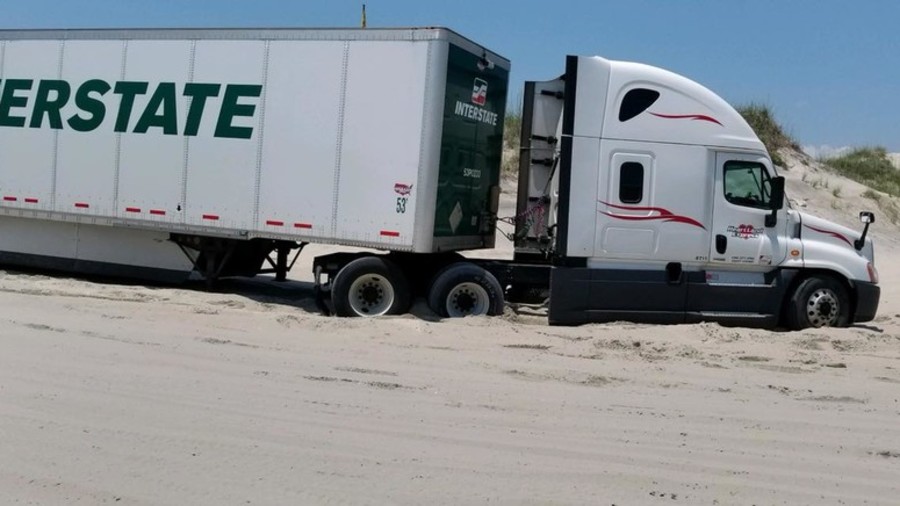 Video footage has captured the travails of a hapless truck driver who ended up marooned on a North Carolina beach after taking a wrong turn.
The 18-wheeler truck-trailer got into trouble on North Carolina's Corolla beach near Outer Banks this week. According to local news outlet WVEC-TV, the driver made an error following directions and ended up in the unfortunate situation.
Local man Drew Kilkenny shot footage of the mission to rescue the 53-foot long truck. Video filmed by the eyewitness shows the large Interstate Van Lines vehicle trapped on soft sand near a dune as a man uses a shovel to dig a pathway for the truck to escape.
Kilkenny said temperatures reached around 90 degrees Fahrenheit (32C) while authorities and breakdown tow truck personnel toiled to free the stricken vehicle. Local authorities said the driver attempted a U-turn on the picturesque beach. However, the wheels ultimately became trapped in the fine sand.
If you like this story, share it with a friend!