Remembering Ed Schultz: RT America anchor's greatest stories (VIDEO)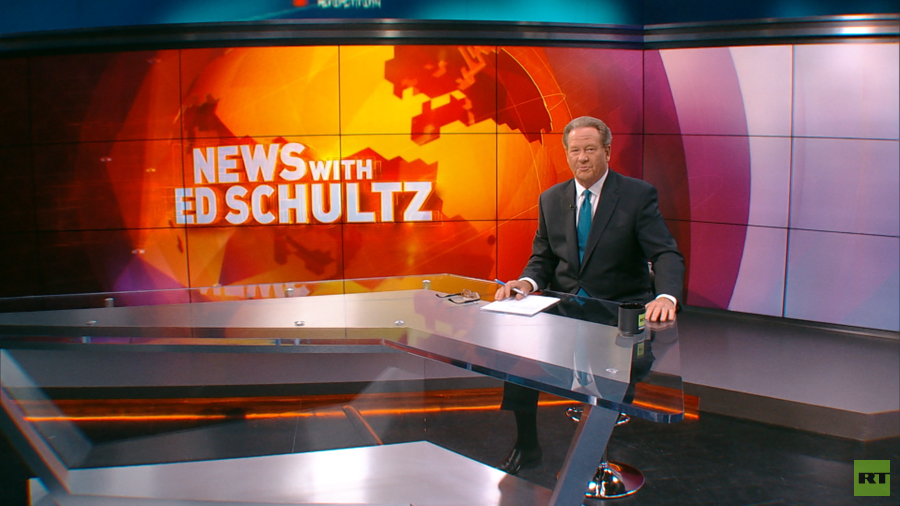 Veteran radio and TV broadcaster Ed Schultz joined RT America in January 2016 and hosted the nightly news as well as several specials, including Brexit and the US presidential election.
Schultz died on July 5, at age 64. We look back at some of his greatest stories.
During the 2016 US presidential campaign, Schultz was able to get several exclusive interviews with independent Senator Bernie Sanders, who was running for the Democratic presidential nomination. Here is an interview from February, on the eve of the Iowa caucus.
Schultz also interviewed the senator's wife, Jane Sanders, after the April primaries pointed to Hillary Clinton's victory.
In February 2016, Schultz interviewed Patriarch Kirill of the Russian Orthodox Church, following his historic meeting with Pope Francis.
Schultz was part of the news team that anchored RT's special coverage of the Brexit referendum in June 2016.
Along with Jesse Ventura and Larry King, Schultz anchored RT America's special coverage of the US presidential election on November 9, 2016 .
In May 2017, Schultz reported from the Victory Day parade in Moscow's Red Square.
Schultz also had some choice words in November 2017 for Congress and others investigating allegations of "Russian interference" in the 2016 US presidential election.
"We lost one of the best and most honest journalistic voices in America," said RT America News Director Mikhail Solodovnikov. "We lost a legend."
Like this story? Share it with a friend!
You can share this story on social media: