'Incompetent enemies': John McAfee blasts 'poisoning' attempt from his hospital bed (PHOTOS)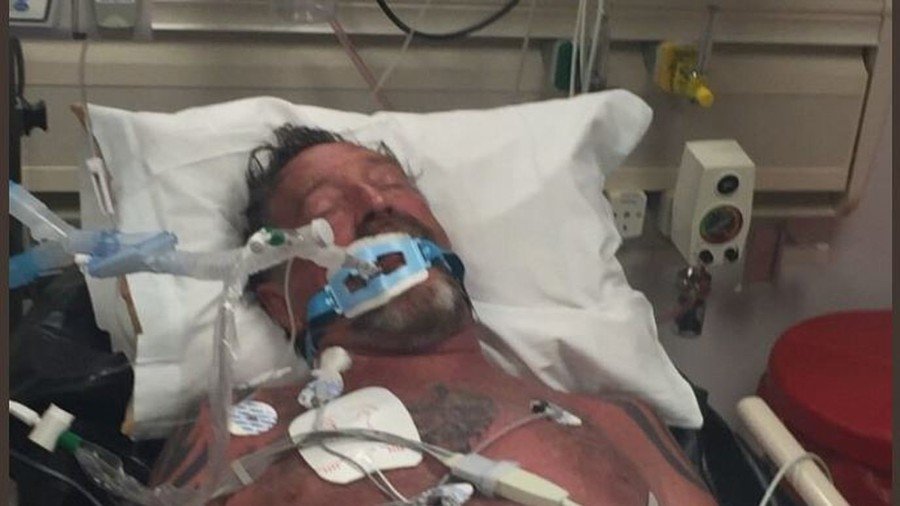 John McAfee says he has survived an attempt on his life after his "enemies" tried to poison him. The cybersecurity pioneer made the startling claim on Twitter and shared images of himself lying in a hospital bed covered in tubes.
"My enemies managed to spike something that I ingested," McAfee wrote. "However, I am more difficult to kill than anyone can possibly imagine. I am back."
READ MORE: 'We live in a new world of sophisticated hacking & cryptojacking' – McAfee to RT
McAfee also issued a warning to those he alleges carried out the attempt on his life: "You will soon understand the true meaning of wrath. I know exactly who you are."
McAfee also claimed he previously survived 11 assassination attempts, and said none of his alleged assassins survived more than two months after they tried to kill him.
Prior to the alleged poisoning, the tech entrepreneur wrote on Twitter that he would no longer be working with cryptocurrency ICOs (Initial Coin Offerings) or recommending them, due to warnings from the Securities Exchange Commission (SEC). The SEC has been taking a strong line against celebrities endorsing stocks and other investments.
McAfee has been promoting a new cryptocurrency, Docademic, which is aiming to reshape the medical world. He also credited the platform for urging him to request emergency medical assistance after his suspected poisoning.
Docademic made the cover of Forbes. Also, one their doctors, when I pushed the docademic button urged me to immediately call medivac. Thank you. I did. pic.twitter.com/idmoaV5X6u

— John McAfee (@officialmcafee) June 22, 2018
It appears the cryptocurrency enthusiast has quickly recovered, however, as he followed up the revelation with the announcement of his new cryptocurrency wallet.
RT has reached out to local police departments in North Carolina, where he was reportedly admitted to the hospital, and in his home state of Tennessee.
Previously, McAfee has admitted to faking heart attacks to avoid being deported from Guatemala to Belize, where police wanted to question him in relation to the 2012 murder of his Belize neighbour, Greg Faull.
READ MORE: $1mn by 2020: John McAfee will still 'eat his own d*ck' if he's wrong about Bitcoin
More recently, he offered to eat his own penis if Bitcoin doesn't hit $1 million by 2020 - coincidentally, the same year he plans to run for president.
Like this story? Share it with a friend!
You can share this story on social media: