Cry me a river? Rachel Maddow's tears during migrant piece get mixed reaction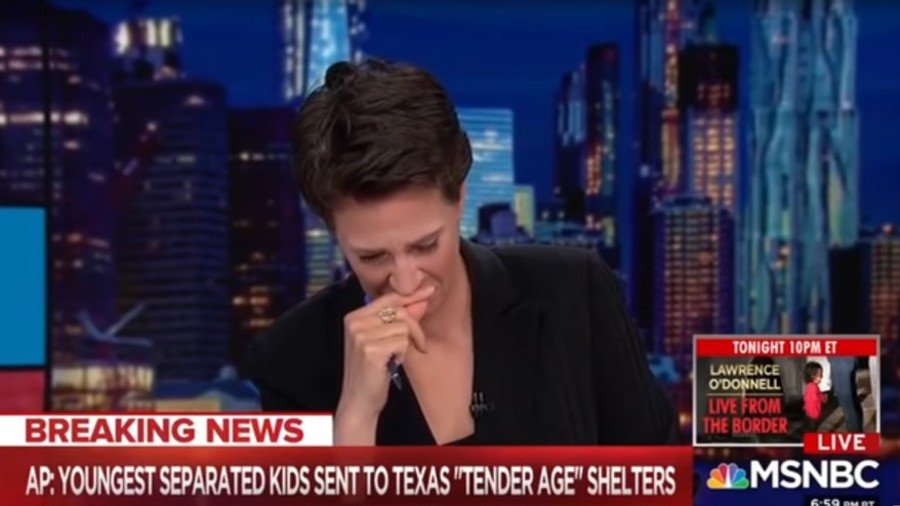 MSNBC anchor Rachel Maddow broke down in tears over a piece on children of illegal migrants. While some expressed sympathy, others accused her of hypocrisy and staged emotions.
"This is incredible," the host of 'The Rachel Maddow Show' uttered live on air on Tuesday when she began reading the recent scoop by the AP on children of detained illegal migrants. The story detailed how babies and youngsters, forcibly separated from their parents by border control, reportedly get transferred to the so-called "tender-age" shelters.
As Maddow read the report, she appeared to become distressed. The Emmy-winning political commentator clearly couldn't hold her composure, bursting into tears. "I think I'm going to have to hand this off," she said sobbingly after a few attempts to pull herself together.
Maddow later apologized to the viewers on Twitter for failing to keep her emotions under control. "Ugh, I'm sorry. If nothing else, it is my job to actually be able to speak while I'm on TV," she wrote.
The segment went viral, with some people expressing sympathy towards Maddow's reaction.
Not everyone believed her, though – with some users ridiculing Maddow and suggesting that her breakdown was staged.
Maddow also got accused of harboring 'double standards'. Some Twitter users questioned why the host shed didn't shed tears when she saw the footage from migrant detention centers and anti-deportation rallies during the Obama administration.
The family-separation policy at the US-Mexico border has polarized the nation, becoming one of the most debated topics. Human rights groups accuse authorities of cruelty, while the Department of Homeland Security (DHS) defends the practice. Around 2,000 children of illegal migrants have been separated from their parents in the last six weeks, according to the DHS figures.
Like this story? Share it with a friend!
You can share this story on social media: