Trump supporter punches back at De Niro, interrupts Broadway show
Published time: 18 Jun, 2018 13:23
Edited time: 19 Jun, 2018 09:34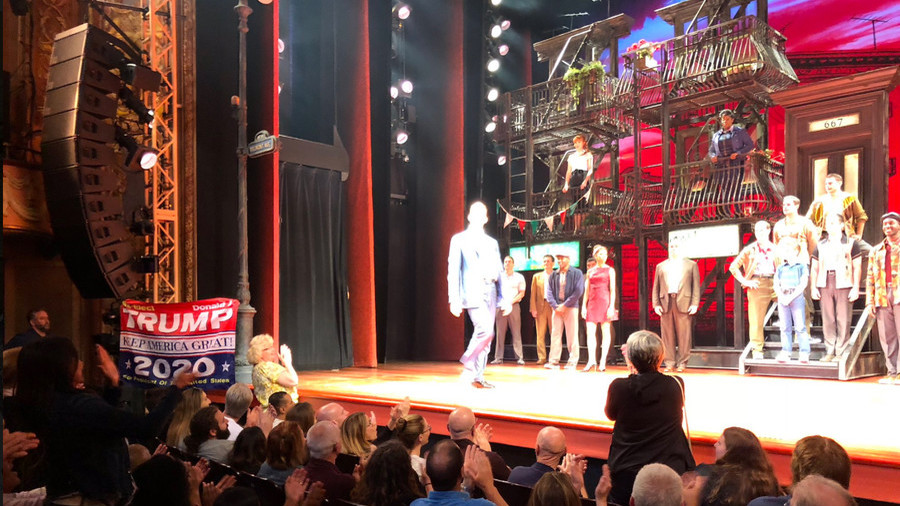 A Donald Trump supporter hit back at actor-director Robert De Niro for his f-bomb-laden rant at the president, interrupting a performance of De Niro's Broadway show to wave a 'Keep America Great' flag in front of the stage.
As the play - 'A Bronx Tale', directed by De Niro - reached its finale on Saturday night, the protester stood up and unfurled a 'Keep America Great' flag with 'Trump 2020' emblazoned on it. He was escorted out of the theater shortly afterwards.
"It's sad that people can't enjoy a beautiful show and embrace its unifying message without politicizing it," read one tweet from an audience member.
Brian Strumwasser, who works in the show's hair department, was livid.
"Whoever the low life scum bag who thinks it's ok to post their political views at a Broadway show and disrespect everyone there who paid to watch a show that is ALL ABOUT INCLUSION was thankfully removed from the theater Saturday night," he ranted in a now-deleted video post on Instagram.
De Niro himself is more than willing to throw political jabs from the stage. Last week, the 74-year-old actor and director was called upon to introduce Bruce Springsteen at the 72nd annual Tony Awards, and used his moment in the limelight to shout "F*ck Trump."
"It's no longer 'down with Trump,' it's 'f*ck Trump," De Niro continued. His expletive-laden rant drew a standing ovation from the liberal crowd and anger from the president, who called De Niro "punch drunk" and "a very Low IQ individual."
The irony was not lost on some Trump-supporting Twitter observers.
Another irate Trump supporter recorded himself smashing a portrait of De Niro and throwing it in the trash, saying "this is what we think of you… you're a real piece of s**t."
De Niro's Tony Awards rant is not the first time the actor and director has verbally sparred with Trump. Earlier this year, De Niro said that Trump lacks "any sense of humanity or compassion," and called him a "madman."