Supreme Court sides with no-cakes-for-gays baker, noting anti-religion 'hostility'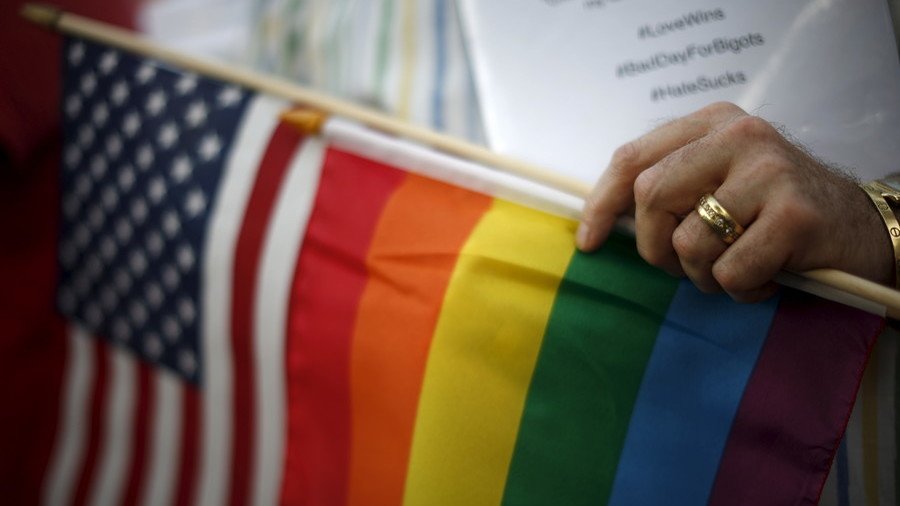 The Supreme Court has ruled in favor of a Christian baker from Colorado who, on religious grounds, had refused to bake a wedding cake for a gay couple. It declared that the case against the baker violated his religious rights.
In a 7-2 decision, the justices said that the Colorado Civil Rights Commission had shown "impermissible hostility" toward religion when it found that the baker, Jack Phillips, violated anti-discrimination laws by refusing to bake the requested cake.
The justices did not, however, clarify whether a cake is the type of expressive act protected as free speech by the First Amendment. Nor did they issue a ruling on the specific circumstances under which people may seek exemption from anti-discrimination laws.
The ruling was authored by Justice Anthony Kennedy, who also authored the 2015 ruling to legalize gay marriage nationwide. Despite his pro-gay marriage judicial work, Kennedy is a staunch advocate for free speech and religious freedom.
Two of the Supreme Court's four liberal justices sided with their five conservative colleagues to deliver the verdict. Justices Ruth Bader Ginsburg and Sonia Sotomayor were the two dissenting voices.
The gay couple at the center of the story, David Mullins and Charlie Craig, were married legally in Massachusetts, but wanted the cake baked for their wedding reception in Colorado in 2012. While gay marriage was not legal in Colorado at the time, the state's anti-discrimination laws included sexual orientation as a protected category, allowing the couple to file a complaint.
READ MORE: Satanic Temple trolls Christian bakers in 'gay cake' dispute
While the justices ruled 7-2 in favor of Phillips, some media outlets downplayed the clarity of the decision. NBC, Reuters, Politico and NPR all called the court's decision "narrow." While this may technically be in reference to the fact that the judges' decision was specific to this particular case, conservatives saw it as proof of a biased media working against them.
"Masterpiece Cakeshop" decision was not narrow; it was consistent with decades of 1A law saying government cannot force you to express yourself in a certain way, neither on a piece of paper nor on a piece of cake. All the rest is MSM trying to downplay the clarity of the decision

— Peter Van Buren (@WeMeantWell) June 4, 2018
Any outlet falsely labeling the 7-2 Supreme Court decision "narrow" is exposing their political bias

— Jack Posobiec🇺🇸 (@JackPosobiec) June 4, 2018
I am reading about a 7 - 2 vote. Pretty sure that's not narrowly... At least 2 dem leaning justices must have agreed. https://t.co/vOjX0mOHPf

— Donald Trump Jr. (@DonaldJTrumpJr) June 4, 2018
Senator Ted Cruz (R-Texas) meanwhile called the decision "a major victory for religious liberty."
Today's Supreme Court decision upholding a Colorado baker's constitutional right to live according to his faith is a major victory for religious liberty. The fact that the decision was 7-2 (not a narrow 5-4) underscores that govt should NEVER discriminate against religious faith.

— Ted Cruz (@tedcruz) June 4, 2018
Today, the Supreme Court ruled 7-2 in favor of Colorado baker who declined making a cake for a gay wedding. Instead of finding another baker, the two men took him to court to force him to bake for them. This ruling is a big victory for freedom of speech. https://t.co/WSoAGVEFUq

— Lila Rose (@LilaGraceRose) June 4, 2018
Some progressives, on the other hand, were unhappy with the ruling. Wisconsin Democrat Cathy Myers said that the decision will only embolden other "bigoted bakers," while writer Robert Sandy said that the decision gave Phillips license to be a "homophobic a**hole."
Freedom of religion is fundamental in the US, but not when used to discriminate. If the owner sells wedding cakes & uses a religious argument to determine 1 wedding is acceptable and another is not, that is discrimination. #CreateTheChange#equalityacthttps://t.co/sIWAP9JbJW

— David Benac for Congress (@David_Benac) June 4, 2018
The Supreme Court decision today only applies to one homophobic baker & does not empower other bigoted bakers to discriminate against LGBT Americans, but it will embolden them.Join me in organizing locally in solidarity with our LGBT neighbors. #SCOTUShttps://t.co/6GkKWZeZHP

— Cathy Myers (@CathyMyersWI) June 4, 2018
You can share this story on social media: