Trainee pilot lands plane on California street at rush hour (PHOTOS, VIDEO)
Published time: 2 Jun, 2018 14:59
Edited time: 4 Jun, 2018 11:27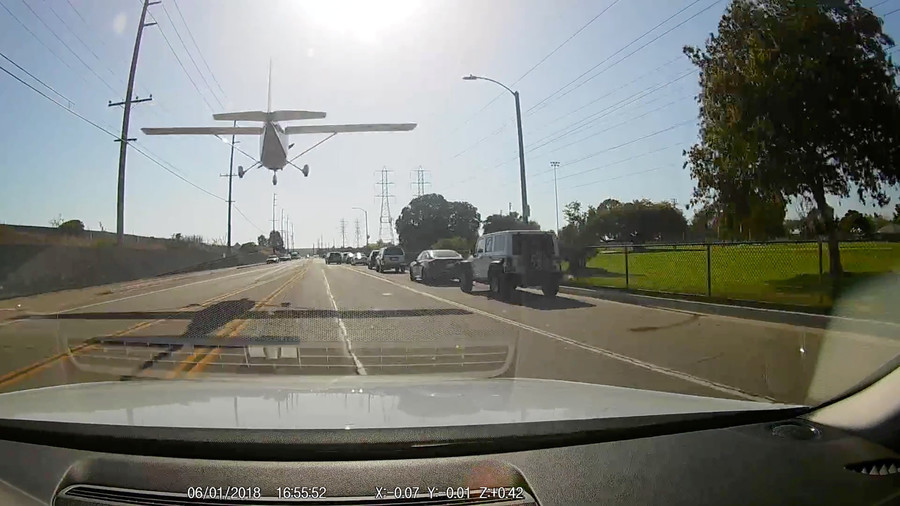 A pilot made a miraculous emergency landing on a busy California street on Friday. The speeding plane somehow managed to avoid cars, people, and a mass of electric cables.
The Cessna 172 aircraft made its death-defying landing near Hamilton Avenue and Magnolia Street in Huntington Beach just before 5pm. The pilot, who was reportedly just a trainee, experienced engine trouble soon after taking off from the nearby John Wayne Airport.
She was forced to make an emergency landing and expertly steered the small aircraft down the busy street as quick thinking motorists moved their vehicles out of the plane's path. The area has a large amount of power lines overhead, which made her landing all the more impressive.
"Amazing job by pilot putting down her plane during an emergency landing on Hamilton Street in HB." Huntington Beach Police Chief Robert Handy said. "The plane lost power shortly after take off from John Wayne Airport. No injuries or damage."
"Cessna Skyhawk en route to John Wayne Airport lost power," the airport wrote on Twitter. "Aircraft landed safely in Huntington Beach. There is no impact to Airport operations."
Federal Aviation Administration spokesman Ian Gregor told the Orange County Register the pilot was practicing flying when she reported the loss of power. The agency is investigating the incident.
Like this story? Share it with a friend!