'He created this mess!' Trump warns John Kerry against Iran deal meddling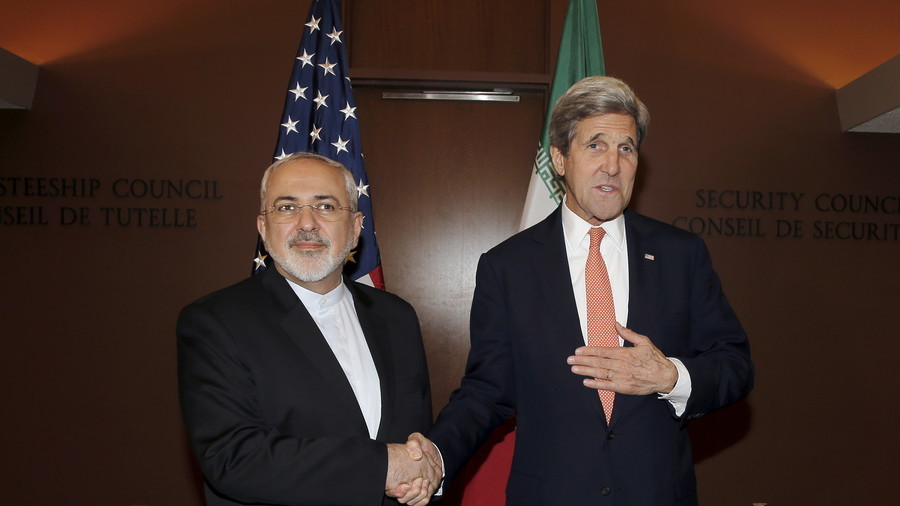 Donald Trump has taken aim at former Secretary of State John Kerry and his behind-the-scenes efforts to preserve the Iran nuclear deal, alleging that Kerry's actions are damaging to US interests and possibly illegal.
Kerry reportedly met with Iranian Foreign Minister Mohammad Zarif two weeks ago in an attempt to salvage the landmark nuclear accord. The former secretary of state played a key role in negotiating the 2015 deal, and has warned of grave consequences if Washington were to withdraw from the agreement. Trump, a vocal opponent of the deal, took to Twitter on Tuesday to accuse Kerry of "hurting" his country.
"John Kerry can't get over the fact that he had his chance and blew it! Stay away from negotiations John, you are hurting your country!" Trump wrote.
In a similar tweet on Monday, Trump lashed out at Kerry's "possibly illegal Shadow Diplomacy," accusing the former diplomat of being "the one that created this MESS in the first place."
The United States does not need John Kerry's possibly illegal Shadow Diplomacy on the very badly negotiated Iran Deal. He was the one that created this MESS in the first place!

— Donald J. Trump (@realDonaldTrump) May 7, 2018
Political commentators and enraged Twitter users have accused Kerry of violating the Logan Act, the 219-year-old law which prohibits citizens from acting on behalf of the United States in negotiations with foreign governments.
In a written statement released on Monday, a spokesman for Kerry pushed back against Trump's Twitter broadsides.
"I think every American would want every voice possible urging Iran to remain in compliance with the nuclear agreement that prevented a war. Secretary Kerry stays in touch with his former counterparts around the world just like every previous Secretary of State," the statement said. "Like America's closest allies, he believes it is important that the nuclear agreement, which took the world years to negotiate, remain effective as countries focus on stability in the region."
But White House press secretary Sarah Sanders said on Monday that the Trump administration was not particularly appreciative of Kerry's unilateral efforts to save the deal.
"I don't think that we would take advice from somebody who created what the president sees to be one of the worst deals ever made," Sanders told reporters during a White House press briefing. "I'm not sure why we would start listening to him now."
The Joint Comprehensive Plan of Action (JCPOA), colloquially known as the Iran nuclear deal, is a 2015 agreement between Iran and the five permanent UN Security Council members (Russia, China, the US, UK, France) and Germany. Under the deal, Tehran gave up 98 percent of its enriched uranium, and agreed to comprehensive international monitoring of its nuclear-related facilities, in exchange for sanctions relief.
Donald Trump is expected to announce on Tuesday whether the United States will stay in the deal, accusing Iran of violating the terms of the agreement.
According to the International Atomic Energy Agency (IAEA), Tehran has so far been in full compliance with the deal. Washington's European allies have urged Trump not to abandon the accord.
Like this story? Share it with a friend!
You can share this story on social media: