Trump hails 'historic' Korea peace agreement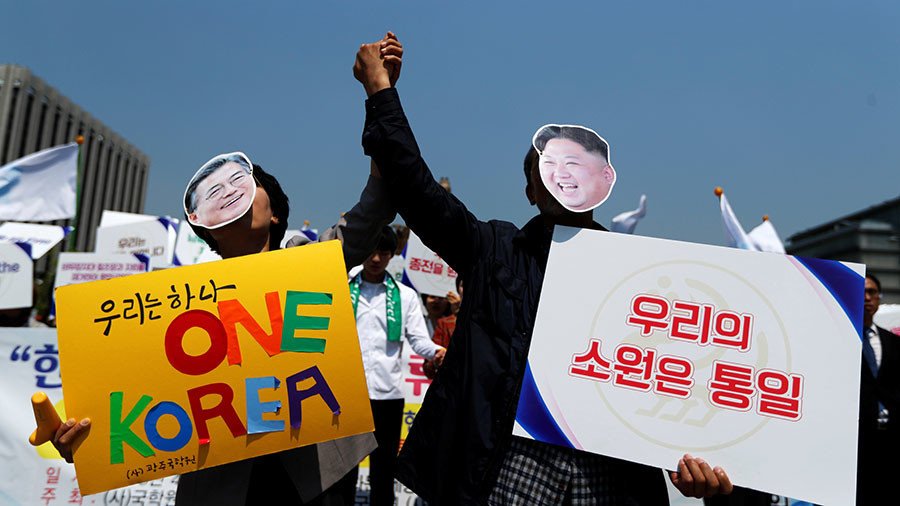 President Donald Trump hailed a peace declaration on Friday between North and South Korea as "historic," ahead of his own talks with Kim Jong-un this summer.
"After a furious year of missile launches and Nuclear testing, a historic meeting between North and South Korea is now taking place. Good things are happening, but only time will tell!" read a tweet from the US president Friday morning.
After Kim and South Korean President Moon Jae-In released a statement pledging to end the Korean war - formally ongoing but in a state of ceasefire since 1953 - and work to achieve complete denuclearization of the Korean peninsula, Trump tweeted a celebratory message:
The US president extended his thanks to Chinese President Xi Jinping on Friday too. Without his input, Trump said, "it would have been a much longer, tougher, process!"
Friday's bilateral summit was the first meeting between leaders from North and South Korea in over a decade, and marked the first time a North Korean leader had crossed the heavily militarized border into South Korean territory since the 1953 armistice.
The two leaders pledged to ease military tension, turn the fortified border into a "peace zone," and pursue multilateral talks with other states like the US and China. "There will be no more war on the Korean peninsula, and a new age of peace has opened," read the leaders' joint statement.
The talks come following a year of nuclear brinkmanship and escalation between Kim and Trump, during which time the North Korean leader repeatedly tested nuclear weapons and ballistic missiles.
While Trump is now playing the role of peacemaker, his rhetoric on North Korea has been erratic over the past year. He took to the podium in front of the United Nations last September and called Kim"little rocket man." In another speech, he threatened to rain "fire and fury like the world has never seen" on Pyongyang. This January, Trump mocked Kim's nuclear capability, tweeting that his nuclear button is "a much bigger and more powerful one than his, and my Button works!"
Trump described his war of words with Kim as "very, nery nasty," on Thursday, but credited his approach with bringing the North Koreans to the negotiating table.
"Everybody said 'This guy is going to get us into nuclear war,' but let me tell you, the nuclear war would have happened if you had weak people." he told Fox News in a phone interview. "This should have been settled long before I came into office. This is a much more dangerous ball game now, but it's going very well."
A meeting between Kim and Trump is provisionally slated for May or June. Trump has been vague on details, and has not disclosed any potential dates or locations. Newly appointed Secretary of State Mike Pompeo met with Kim in secret two weeks ago, to lay the groundwork for the coming meeting. Trump said on Thursday that while the secret meeting was unplanned, Pompeo and Kim spoke for over an hour. The White House later released photos of Pompeo and Kim shaking hands.
A meeting between Trump and Kim would be the first between a North Korean leader and a sitting US president.
You can share this story on social media: