Democrats claim Diamond & Silk lied over Trump payments in congressional hearing
Published time: 26 Apr, 2018 20:51
Edited time: 30 May, 2018 10:50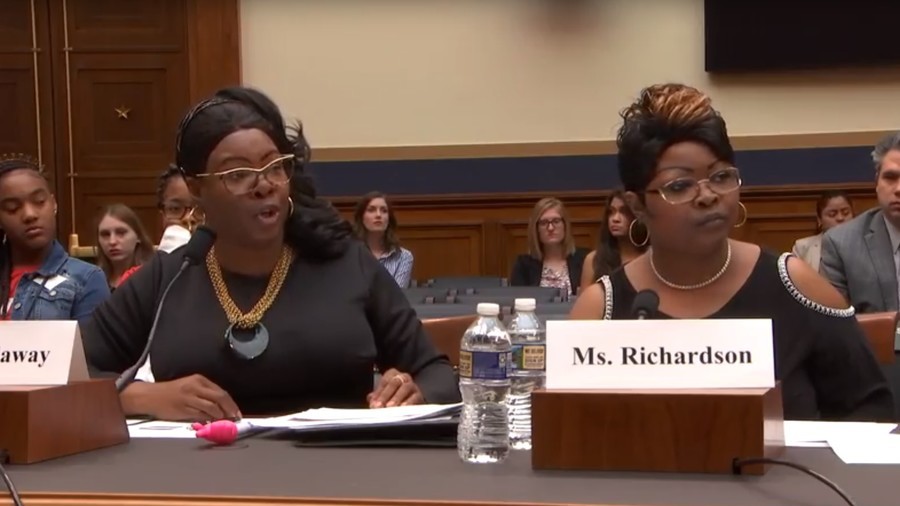 Conservative YouTube stars Diamond and Silk claimed under oath that they were never paid by the Trump campaign in the run-up to the 2016 election. Democrats say a "field consulting" payment in the FEC filings means they lied.
At Thursday's hearing before the House Judiciary Committee, Diamond, whose real name is Lynette Hardaway, testified the duo had "never been paid by the Trump campaign." Rep. Hakeem Jeffries (D-New York) then produced Federal Election Commission (FEC) receipts that showed a payment of $1,275 by the Trump campaign in November 2016, for "field consulting."
"We are familiar with that particular lie, we can see that you do look at fake news," said Rochelle Richardson, alias Silk.
"I'm just trying to figure out who is lying here," Jeffries shot back.
Diamond and Silk insisted that the payment was a reimbursement for their air travel fares to a campaign event, and was made after the election. The date on the receipt is November 22.
At another point in the hearing, they suggested that the FEC had made an error in its reporting.
The Trump-supporting pair were in Washington to speak about anti-conservative bias on social media platforms. They testified that their videos were censored and their page declared "unsafe to the community" by Facebook.
In his own congressional hearings earlier this month, Facebook CEO Mark Zuckerberg apologized for that incident and said Banning Diamond and Silk was an "enforcement error." Zuckerberg was also pressed by Republicans for multiple incidents of censoring conservative and Christian content.
"Was it also an enforcement error for 6 months, 29 days, 5 hours, 40 minutes, and 43 seconds of chatting and emailing about the same issue and being told that my issue would be escalated to a Facebook team, the Spam Team, the Technical Team, the Appeal Team, the Internal Team and the Policy Team only to be told on January 8, 2018 that a request was never sent off?" Hardaway asked at the hearing, disputing Zuckerberg's account.
Though Democrats pressed for greater regulation of social media at the Zuckerberg hearings, they protested Thursday's testimony as a Republican push to regulate the internet. Outspoken Trump critic Rep. Ted Lieu (D-California) called the entire hearing "stupid and ridiculous."
Diamond and Silk engaged in shouting matches with Democrats, and at one point seemed to confuse Facebook's publicly traded status with the platform being a public good.
"You all have been bashing Facebook and you've made a ton of money [off Facebook], isn't that correct?" asked Rep. Hank Johnson (D-Georgia).
"No, no, no, no, wait a minute, hold up. We didn't bash Facebook," Diamond replied. "What we did was we brought it to the light, how Facebook has been censoring conservative voices like ourselves for six months!"
President Donald Trump called Diamond and Silk "beautiful, wonderful women" and "warriors" in his telephone interview with Fox and Friends on Thursday morning.
The hearing comes amid an ongoing backlash against rapper Kanye West, who openly declared his support for Trump on twitter, prompting accusations of "aligning with the oppressor."
Like this story? Share it with a friend!