Outrage as NPR attacks black activist over 'Russian' radio appearance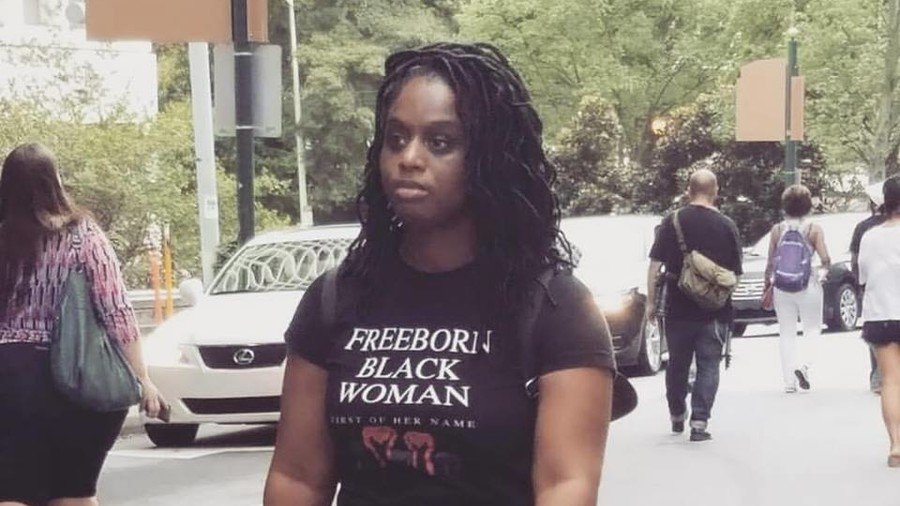 Black progressive activist Anoa Changa found herself the subject of a vicious hit piece this week on WABE News, an Atlanta NPR affiliate. Her crime? Speaking to a Russian-owned radio station.
When Changa sat down to talk to WABE's Johnny Kauffman, she expected to chat about her work as a progressive activist. Instead, Kaufman focused the interview on an appearance Changa had made on Russian-run radio station Sputnik in 2016. The piece was published with the headline "Atlanta Activist Uses Russian-Backed Media To Spread Message."
Changa, a mother of two, had been an avid supporter of Bernie Sanders in the run-up to the 2016 election. Now Changa is managing editor of a blog called 'Progressive Army,' and hosts a podcast from her native Atlanta, all while holding down a day job and raising two children.
Kauffman sat in Changa's studio – a friend's living room equipped with a microphone and webcam– as she interviewed Amy Vilela, a progressive candidate running for the Democratic nomination in Nevada's 4th Congressional District. Changa and Vilela spoke of corruption in American politics, but the interview was just a formality before Kaufman turned the heat up on Changa.
In 2016, Changa spoke on two programs hosted on Sputnik, which broadcasts on AM and FM in Washington DC. While Changa used Sputnik to speak about progressive issues to a wider audience, Kauffman saw sinister Russian plots afoot.
Ominously, the article says that "Changa's association with Sputnik may put her credibility at risk," and warned that appearing on a Sputnik program furthers "Russia's effort to create chaos in the US."
Working with Sputnik, Kauffman wrote, made things "complicated" for Changa.
Fellow activist Eugene Puryear hosts the Sputnik show 'By Any Means Necessary,' on which Changa is a regular. The two talk about police brutality, marginalization, and the influence of money in politics. These issues weren't important to Kauffman, however. What was important is that Russia pays Puryear's salary.
Somehow, this means that Sputnik is using leftist causes to further a shady and divisive Russian agenda in America. The fact that Changa also appeared on mainstream outlets like the BBC is not mentioned once, nor is the fact that NPR is funded by the US government. Facts would only get in the way of the narrative.
That Puryear and his guests often lament the mainstream media's phony 'Russian interference' narrative only serves as further proof of their guilt in the vast Russian conspiracy.
To back up his point and give the Russia hysteria legitimacy, Kauffman cites research professor Robert Ortnung, who claims that Sputnik and RT are sinister news organizations that exist only to further the Bond-villain aims of Vladimir Putin.
"Those platforms are set up for the sole purpose of promoting the Kremlin line," Ortnung said. "The idea is to create as much chaos as possible, because the Russians see it as a zero-sum game, where anything that weakens us is going to strengthen them."
Kauffman neglects to mention that Ortnung is himself a government mouthpiece. He is on the International Forum for Democratic Studies Council at the National Endowment for Democracy, set up by Ronald Reagan at the height of the Cold War to spread the American message abroad. To this day, the NED is almost entirely funded by US government money.
After outlining the villains, Kauffman makes his play at the end of the article. He lists a rogues gallery of Georgia politicians that have spoken to RT and Sputnik, before tipping off one politician about the dangers of speaking to a Russian stooge like Changa.
After Kauffman told local Democrat Richard Winfield that Changa is a regular guest on a Sputnik show, the politician said that he would not have spoken to her had he known.
"It raises the possibility of people impugning not just me," said Winfield, "but the political positions I'm advancing."
Twitter exploded after the article was published, as users immediately saw through the obvious smear.
"NPR didn't just smear Anoa Changa," tweeted journalist Caitlin Johnstone. "They combed through her podcasts and called people she's interviewed digging for Russia dirt. The worst they could find was one guy who disapproved of her Sputnik stuff. Did that stop them from publishing? Of course not."

The message of Kauffman's article is clear: In an era where liberal American media outlets are tripping over each other to find evidence that their enemies one time might have had Russian dressing on their salad, speaking to Russians makes you guilty by association.
As noted in the article, Changa has no intention of stopping her appearances on Sputnik.
Like this story? Share it with a friend!
You can share this story on social media: