US students usurp Columbine anniversary despite school's opposition to #NationalWalkout (VIDEOS)
Published time: 20 Apr, 2018 18:09
Edited time: 21 Apr, 2018 14:40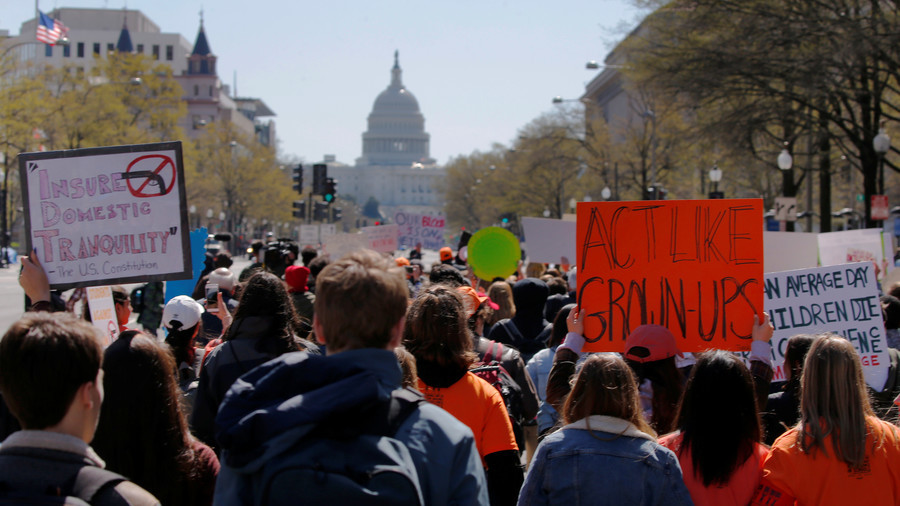 From the White House lawn to Parkland, Florida, thousands of students across the US are commemorating the 19th anniversary of Columbine by staging a national walkout - despite calls from the school to refrain from such action.
The demonstration is intended to be a national show of unity in the fight for gun control which will put pressure on politicians to adopt legislative change to curb the phenomenon of school shootings in the US. Organizers say at least 2,600 walkouts are planned, with at least one in every state.
The protest follows February's mass shooting at Stoneman Douglas High School, Parkland, where 17 people were killed when suspected shooter Nikolas Cruz opened fire. The massacre has led to an intensification of the anti-gun movement in the US.
Among those endorsing the national walkout is Parkland shooting survivor and student activist David Hogg. Hogg livestreamed the walkout at Stoneman Douglas High School, garnering over 200 thousand views.
Hogg, who appears to be aware of the wishes of Columbine High School, encouraged students to take part in voluntary service in their communities after the walkout.
Students in Washington DC took their walkout to the White House where they took part in nineteen minutes of silence to commemorate the anniversary.
The demonstration was organized by 16 year-old Lane Murdock, a student at Ridgefield High School in Connecticut. Columbine High School students, however, are not taking part in the walkout and are instead marking the day by working on community service projects.
"We know another walkout has been planned by various groups, however, in Jeffco the month of April has long been a time to respectfully remember our loss, and also support efforts to make our communities a better place."
"Please consider planning service projects an activity that will somehow build up your school, or perhaps pre-Day Without Hate event on April 20 as opposed to a walkout," the school said in a statement signed by the current principal Scott Christy and the principal at the time of the massacre, Frank DeAngelis.
The letter was issued to other high schools in the suburban Denver district earlier last week, according to KMGH-TV. Junior at the high school Kaylee Tyner told the news outlet that the anniversary was about remembering the victims and their families. "Every other day can be a day to push for change," she said.
Thirteen people - twelve students and one teacher - were killed when two high school students opened fire at Columbine High School in Colorado on April 20, 1999. The two perpetrators also died in the attack.
Think your friends would be interested? Share this story!