5 dead after helicopter crashes in east river off Manhattan, New York (VIDEO)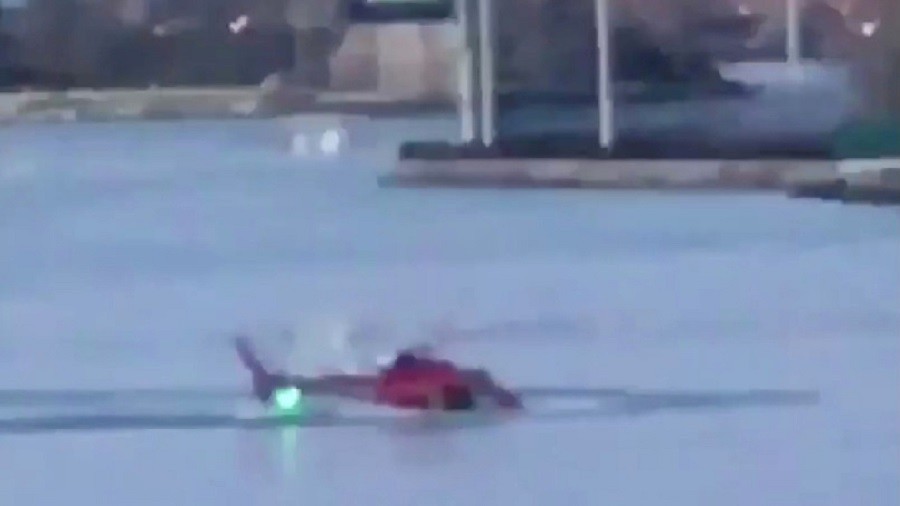 Five people have been killed after a passenger helicopter crashed in New York City, officials have confirmed.
A total of six people were on board the helicopter, including the pilot, New York Police Department Commissioner James O'Neill told a press briefing at the East 34th Street Heliport. He said the aircraft was owned by Liberty Helicopter Tours and was on a private charter for a photo shoot.
"The pilot freed himself, the other five did not," Fire Department of New York Commissioner Daniel Nigro said. "Police and fire department divers entered the water and removed the other five."
Two of them were pronounced dead at the scene and the remaining three were rushed to a hospital in a critical condition but later died.
"The pilot is OK, taken to the hospital and checked out," Nigro added, but said authorities so far "don't have an outcome" on the other victims. He said it took divers a while to free them, working in 15 meters (50 feet ) of water with a 6.4 kmph (4mph) current and a water temperature of below 4.5 degrees Celsius (40 degrees Fahrenheit).
Emergency divers were seen in the water around the partially-submerged and inverted wreck of the Eurocopter AS350. The Fire Department crews were also present at the site, near 91st Street in Manhattan.
An amateur video of the crash has emerged, showing a red helicopter coming down with a large splash at dusk, before capsizing onto its right side. It was captured by an alleged eyewitness, who posted it in his Twitter acount, 'JJ Magers'.
Roosevelt Island resident Xinran Jiang said she and her husband also saw the red helicopter descending rapidly at about 7:08 pm, the New York Times reports. "It almost looked like it was landing," Jiang said. "It wasn't moving fast. We were curious where it was going to land. Then the next minute, it was diving into the river."
Arpi Gettings said she was finishing dinner with friends in her apartment on East 92nd Street in Manhattan when they witnessed the crash. "It caught our attention because it was going really fast toward the river," she said. "Then it went more steady and it crashed into the river." Gettings said she saw what she took to be an orange life raft near the crashed chopper, but not whether anyone made it out or to the life raft.
The Federal Aviation Administration said the aircraft went down off the northern end of Roosevelt Island, between Manhattan and Long Island, around 7:00pm. The agency said it was investigating the accident.
Think your friends would be interested? Share this story!