Florida lawmakers pass gun bill that allows arming 'some' school staff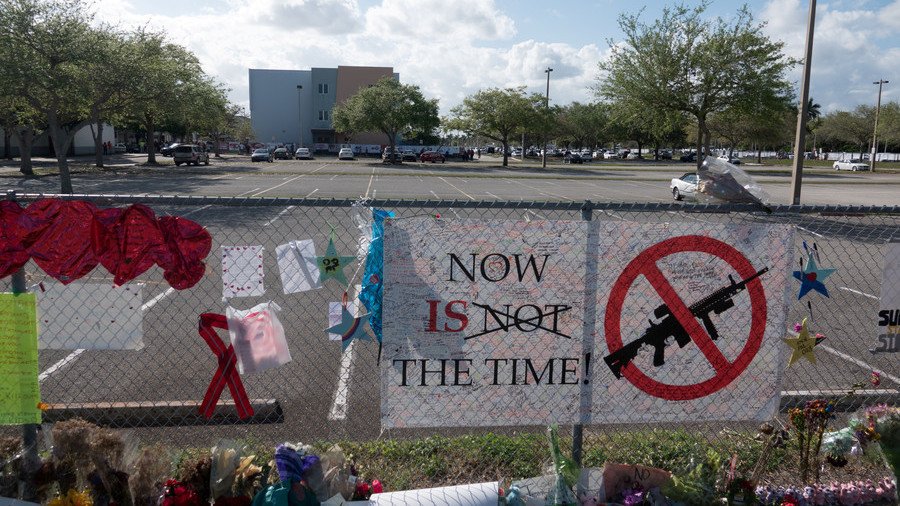 By a narrow margin, Florida legislators have passed controversial gun safety legislation limiting sales of certain firearms and providing for the arming of some school staff, in the wake of the recent massacre in Parkland.
Senate Bill 7076 passed by a 67-50 vote on Wednesday evening, after over eight hours of debate, and will become law in 15 days unless Governor Rick Scott vetoes it.
The new bill imposes a three-day waiting period for all firearm purchases and raises the minimum age for anyone buying a shotgun or rifle from 18 to 21. It also bans the sale of bump stocks, which are used to convert a semi-automatic gun into an automatic one.
The legislation also establishes the Coach Aaron Feis Guardian Program, named after the school coach who was shot and killed during the massacre, which allows local sheriffs to "appoint certain volunteer school employees as school guardians" who would be required to undergo 132 hours of firearm and safety training. The bill also enforces mandatory mental health and drug screenings in order to qualify.
The program also mandates that any staff who "exclusively perform classroom duties as classroom teachers" are not allowed to take part in the program unless they are Junior Reserve Officers, service members or current or former law enforcement officers.
Further provisions in the bill prohibit anyone deemed mentally incompetent, or previously committed to a mental institution, from owning guns and advocates temporary seizures of guns from people taken into custody by authorities for involuntary mental examinations, citing the Baker Act, Reuters reports.
The bill also allocates $400mn to finance the directives.
Florida Democrats were heavily divided over the bill, arguing that certain provisions allowed armed staff to patrol school grounds and posing a risk to students, the Miami Herald reports. Some black lawmakers advised that it could unfairly target African-American students and personnel, inadvertently identifying them as shooters.
Though the killing of 17 people at the Marjory Stoneman Douglas High School in the affluent neighborhood of Parkland was by no means the only such tragedy in the US in recent years, the event appears to have been a catalyst for acrimonious debate at a national level, pitting gun law reform advocates against gun freedom supporters.
There were walkouts at some schools and students themselves, in particular the survivors of the Parkland shooting, became more involved in the debate. This was seen, at least in part, to have prompted President Trump to invite students and parents to the White House.
It was at this meeting that Trump first publicly floated the idea that school personnel that were 'adept' with guns might be mandated to carry weapons on school premises. From there, the idea was met with a mix of scorn and praise and it is likely that the issue will be vigorously debated for some time to come.
Think your friends would be interested? Share this story!
You can share this story on social media: