Homicide, narcotics trafficking & dishonesty - Florida Sheriff's Office has history of failure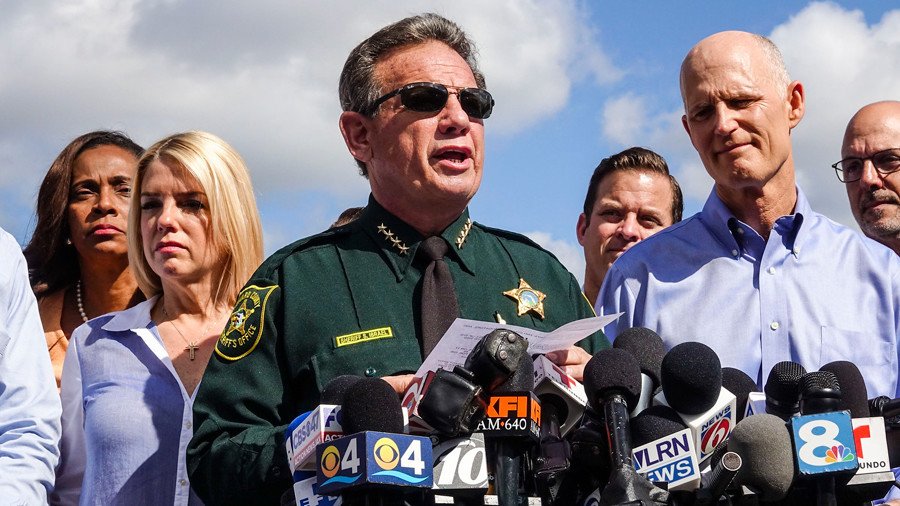 The Broward County Sheriff Office in Florida is facing a total of 66 misconduct investigations, it has been revealed, while its sheriff faces widespread condemnation for poorly handling the Parkland school shooting.
With the dust not yet settled on the recent attack, Sheriff Scott Israel claims he has demonstrated "amazing leadership" throughout his tenure at Broward County. The string of accusations aimed at him and his colleagues over the last six years tells a different story and has left many suggesting that the department's failures are not limited to their handling of the massacre at Stoneman Douglas High School two weeks ago.
The list includes accusations that Israel's deputies and other employees are responsible for drug-trafficking, armed kidnapping, falsifying records, battery, assault and more.
One of the investigations in question is the shooting of Jermaine McBean, an African-American IT engineer who was killed by officers in 2013 when they received a call saying he was walking around with a gun. It later transpired that the weapon resting on his shoulders was an unloaded air-rifle that he bought that afternoon. Two years later, photographs of the victim revealed that McBean had been wearing headphones when he was shot, which explained why he did not react to warnings from police. At the time of the incident, however, those same headphones were said to have been found in the victim's pockets, which has lead to suspicions of an attempted cover-up.
The details outlining the broader failures by the Sheriff's Department have been brought to light by David Schoen, the attorney representing McBean's family, who accuses Israel of trying to shift blame, saying "the buck never stops with him."
Court records filed against Sheriff Israel by Schoen reveal the extent of the accusations being made.
Approximately 66 BSO (Broward Sheriff's Office) deputies and other employees, including supervisory personnel were arrested for, charged with, and/or convicted of crimes that run the gamut from Armed Kidnapping, to Battery, Assault, Falsifying records, Official Misconduct, Narcotics trafficking, and other crimes involving dishonesty and violence in the years immediately proceeding [sic] 2013 when Jermaine was killed. Most of the offenses on the list occurred in the years 2012-2013.
Schoen goes on to outline that the cases are often resolved by "guilty pleas resulting in short or no period of incarceration and a chance for the criminal record to be cleared after a period of time."
The major source of criticism for the embattled sheriff has come in the light of apparent failures following the shooting at Stoneman Douglas High School on February 14. Israel is accused of not taking responsibility for the fact that his deputies did not attempt to stop the shooter sooner and that they prevented paramedics from treating victims at the scene. There are also concerns that the Sheriff is hiding important information in his refusal to release footage that might shed light on what exactly happened during the shooting.
It has also been demonstrated that his department received no less than 23 calls relating to the possibility that the shooter was a risk to the community, two of which referred specifically to his intention to attack a school.
Furthermore, accusations of racism at the Broward County Sheriff's Office are emerging on Twitter as users point to news stories in the past where it had been alleged that the department was using women to entrap black men into committing crimes and that deputies had been asked to wear ski-masks and disrupt hip-hop events.
In case you're wondering what America's favorite new Sheriff has been up to the last 2yrs: he got caught entrapping 18 black people in 2016 (0 white people,) but is more recently accused of directing deputies to put on ski masks & bust up a venue repeatedly on hip hop nights pic.twitter.com/HnrPVACNyY

— Alex Rubinstein (@RealAlexRubi) February 23, 2018
You can share this story on social media: