Trump orders Democrats to rewrite memo claiming it's 'too long & political'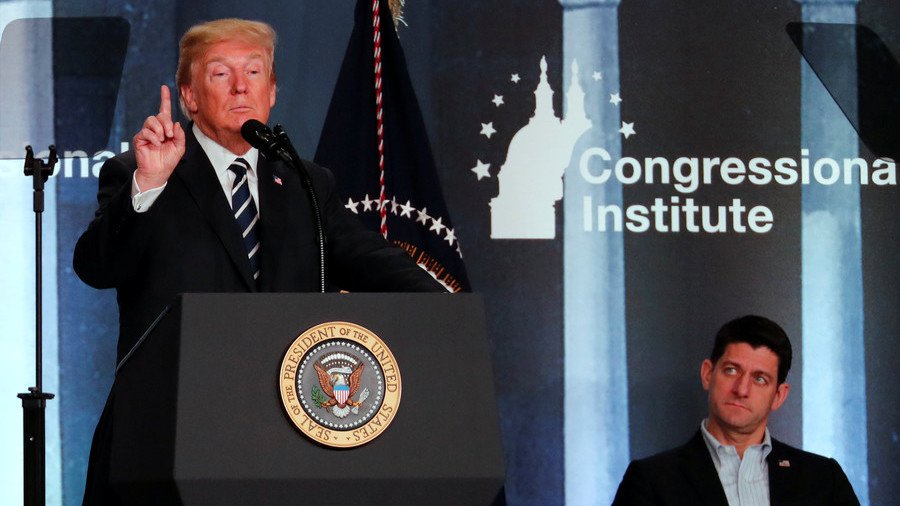 US President Donald Trump told Democrats they would have to "re-do" their rebuttal to a Republican memo alleging FBI bias against him because it is "very political and long."
The 10-page document, written by Democrats on the House Intelligence Committee in response to the Republican memo which accused both the FBI and the Department of Justice of bias against Trump in the investigation of alleged Russian interference in the 2016 US presidential election.
READ MORE: 'National security concerns': Trump returns 'sensitive' memo to House Democrats for revision
Trump allowed the release of that memo on February 2 but blocked the Democrats' memo on Friday. He took to Twitter Saturday to explain why he instructed the congressional Democrats to re-do their memo.
The president alleged that the Democrats knew the memo would have to be heavily redacted and said they would use that as evidence of a "lack of transparency" in the White House.
The Democrats sent a very political and long response memo which they knew, because of sources and methods (and more), would have to be heavily redacted, whereupon they would blame the White House for lack of transparency. Told them to re-do and send back in proper form!

— Donald J. Trump (@realDonaldTrump) February 10, 2018
The decision to block the memo, which was authored by Representative Adam Schiff, raised the ire of Democrats who accused Trump of double standards.
Democrats on the committee said the Republican memo, written by California congressman Devin Nunes, cherry-picked information in order to accuse the FBI and the Justice Department of bending the rules in order to get a FISA surveillance warrant against Trump campaign adviser Carter Page.
Nunes' memo accused the FBI and the DOJ of not informing the FISA court that the so-called "Steele dossier," which provided the basis for the warrant, was opposition research paid for by the Democratic Party and the Hillary Clinton campaign.
Like this story? Share it with a friend!
You can share this story on social media: