Randstanding: Rand Paul & the art of filibustering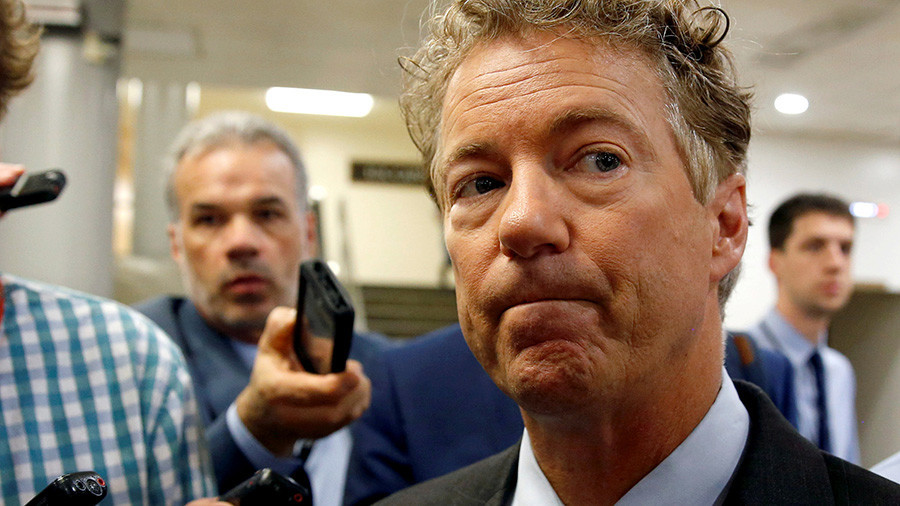 The US government shut down for a few hours after Senator Rand Paul made the lawmakers miss the deadline for passing the budget, lambasting excessive government spending. It's not the first time Paul filibustered a major deal.
Paul, a fiscal hawk fiercely opposed to excessive government spending, railed against the 700-page spending bill that lawmakers only received the day before. He didn't spare his Republican colleagues, going so far as to accuse them of hypocrisy and "intellectual dishonesty."
"When the Democrats are in power, Republicans appear to be the conservative party," Paul, the Senator from Kentucky and former presidential candidate, remarked at one point. "But when Republicans are in power, it seems there is no conservative party. The hypocrisy hangs in the air and chokes anyone with a sense of decency or intellectual honesty."
Last year, the Congressional Budget Office said the US budget deficit stood at $668 billion.
Paul proposed adding an amendment to the budget deal that said the US government "should obey budget caps," which he defined as "limits we placed on spending, both military and non-military."
On January 20, the US government shut down after Democrats failed to receive concessions on immigration, specifically on so-called 'Dreamers,' the children of immigrants who entered the United States illegally and who face deportation.
However, this was not the first time Rand Paul has hogged the Senate spotlight in an effort to draw attention to issues he feels important – even at the risk of shutting down government.
Rand stands against CIA drone program
On March 6, 2013, Paul addressed members of Congress for 13 hours in an effort to draw attention to President Barack Obama's move to allow the targeting and killing of American citizens on US soil without so much as a trial by jury. The filibuster came amid an effort by the Democrats to confirm John Brennan as head of the CIA.
Questions about the drone program emerged after Attorney General Eric Holder made the argument that the president is not required to get authorization before targeting US citizens they believe to pose a national security threat.
"I'm not accusing anyone of being that evil [of killing Americans on US soil with trial]," Paul said in the course of his filibuster, "but what I am saying is that in a democracy you could someday elect someone who is very evil. That's why we don't give the power to the government" to carry out such extrajudicial strikes, he said.
In September 2011, the Obama administration executed that power with frightening efficacy when it killed US citizen Anwar Awlaki in a drone strike in Yemen, along with Samir Khan, also a US citizen. Two weeks later, and without providing any explanation, the administration also killed Abdulrahman al-Awlaki, Anwar's 16-year-old son who also had US citizenship.
Six months later, Holder attempted to provide justification for such cold-blooded murders.
"Some have argued that the President is required to get permission from a federal court before taking action against a United States citizen who is a senior operational leader of al Qaeda or associated forces. This is simply not accurate,"Holder told students and faculty at Northwestern University Law School in March 2012. "'Due process' and 'judicial process' are not one and the same, particularly when it comes to national security. The Constitution guarantees due process, not judicial process."
Those comments, together with the Department of Justice memo authorizing the killing of Awlaki, drew serious criticism from across the political spectrum, and most vociferously from Rand Paul.
"I will speak as long as it takes, until the alarm is sounded from coast to coast," Paul warned his colleagues. And speak he did.
Explaining he anticipated the debate on Brennan's appointment to be scheduled for the following day, Paul told reporters after his marathon monologue that he hadn't prepared for the filibuster.
"Well the weird thing is that we didn't really have a plan," he said. "We showed up this morning thinking [the Brennan] debate was going to be tomorrow... I hadn't planned on it. I didn't wear my most comfortable shoes or anything. I would have worn different shoes."
In the last year of Obama's term as president, the United States had dropped at least 26,171 bombs, mostly in Syria and Iraq, but also in hardscrabble places like Afghanistan, Libya and Yemen.
Filibustering the 'PATRIOT ACT'
In May 2015, Paul was determined to rein in the so-called PATRIOT ACT, sections of which were set to expire at the end of the month. Civil libertarians were outraged by classified information from the National Security Agency that revealed a massive global surveillance program against Americans, leaked by former NSA employee Edward Snowden.
This time he was more prepared, wearing dark green sneakers for a filibustering effort that went for over 10 hours.
"There comes a time in the history of nations when fear and complacency allow power to accumulate and liberty and privacy to suffer," Paul said in his opening comments. "That time is now. And I will not let the PATRIOT Act — the most unpatriotic of acts — go unchallenged."
Paul was specifically opposed to reauthorizing Section 215 of the Patriot Act, which gave authorization to the NSA's collection of Americans' phone records.
Incredibly, Paul emerged victorious, terminating the NSA's ability to collect domestic phone records for a national database. Yet Paul issued a stark warning to his supporters, who wore "Stand with Rand" t-shirts in the visitor's gallery.
"The Patriot Act will expire tonight," Paul said, before almost conceding some future defeat. "It will only be temporary. They will ultimately get their way."
On June 2, Congress approved the USA Freedom Act, reinstating several provisions of the Patriot Act that had expired thanks to Paul's filibuster.
You can share this story on social media: