FBI texts suggest Comey could have lied under oath, staffers used Gmail for official business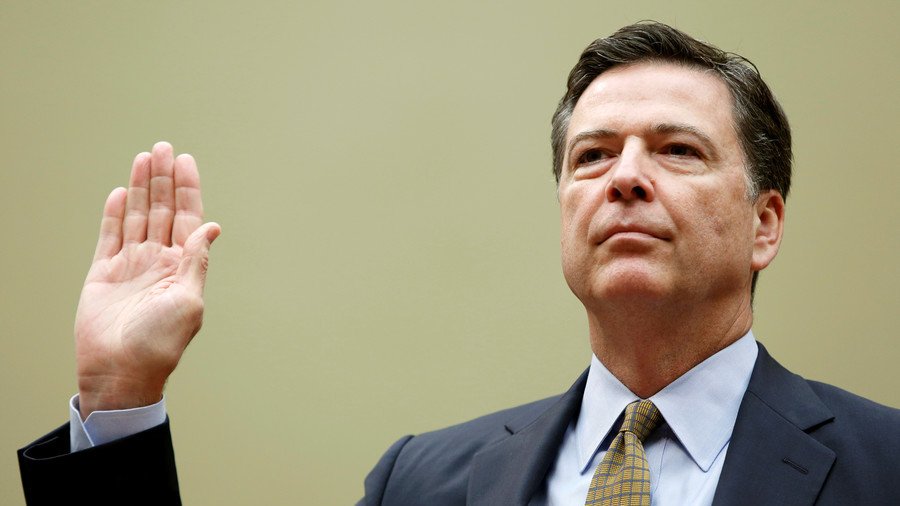 A new report has revealed additional texts between FBI agent Peter Strzok and his mistress Lisa Page, indicating that FBI staffers used non-official email servers. It also questions whether James Comey lied under oath.
The texts were released in a 25-page report titled 'The Clinton Email Scandal and the FBI's Investigation of it,' which was released by the Committee on Homeland Security and Governmental Affairs on Tuesday. The report included numerous messages between Strzok and Page, but noted that they "do not provide a full and complete picture" and that "further investigation and inquiry is necessary."
Below are some of the extracts from the report.
FBI staffers could have been using non-official email accounts to conduct business:
"Text messages exchanged between Strzok and Page suggest that FBI officials used non-official email accounts and messaging programs to communicate about FBI business. For example, on April 10, 2016—after Strzok expressed his frustration about being 'left out of the loop'—he wrote to Page: 'Gmailed you two drafts of what I'm thinking of sending Bill, would appreciate your thoughts. Second (more recent) is updated so you can skip the first.' In another exchange, on October 25, 2016, about a letter to Congress regarding the Clinton investigation, Page wrote, 'Remind me I need to ask you something. Tomorrow is fine.' Strzok responded: '[S]ure. You can also imsg [iMessage] me.' Strzok and Page also discussed Page potentially receiving an FBI-issued iPhone for which the FBI information technology office proposed to stop following 'security/monitoring' requirements. These texts raise questions about the FBI's retention of records associated with its investigation."
Questions on whether James Comey lied under oath:
"On July 1, 2016, following Attorney General Lynch's announcement that she would follow the FBI's recommendation in the Clinton investigation, Page wrote, 'it's a real profile in couragw [sic], since she knows no charges will be brought' against Secretary Clinton. Director Comey held the exoneration announcement press conference on July 5, 2016. Appearing before the House Committee on Oversight and Government Reform on July 7, 2016, Director Comey testified that he 'did not coordinate [his statement] with anyone. The White House, the Department of Justice, nobody outside the FBI family had any idea what I was about to say.' These statements seem to be at odds. The statements by both Comey and Lynch were carefully crafted for public consumption. Page's text message, in contrast, was never intended to see the light of day, was therefore more candid, and may have greater credibility. Because Director Comey's July 7 statement was given under oath, this discrepancy requires further investigation."
More anti-Trump rhetoric:
"On August 9, 2016, Page wrote to Strzok about Trump, 'He's not ever going to become president, right? Right?!' On August 15, 2016, Strzok replied to Page, 'I want to believe the path you threw out for consideration in Andy's office—that there's no way he gets elected—but I'm afraid we can't take that risk. It's like an insurance policy in the unlikely event you die before you're 40…' Because of what these texts imply, they demand further investigation."
READ MORE: Newly revealed FBI texts raise questions about Obama's involvement in Clinton email probe
"Throughout the primary and general elections, Strzok and Page repeatedly demonstrated hostility to then-candidate Trump and Republicans in general. Page called Trump a 'loathsome human,' before writing 'I can not [sic] believe Donald Trump is likely to be an actual, serious candidate for president.' Strzok called Trump 'an idiot' and opined Clinton 'should win 100,000,000 – 0.' Strzok and Page also used expletives to describe Trump. Page also expressed disdain for Americans participating in the 2016 March for Life, writing that she 'truly hate[s] these people.' Strzok called Virginians who apparently voted against FBI Deputy Director McCabe's wife for a local Senate seat 'ignorant hillbillys [sic].' These statements raise questions about whether personal political bias may have affected the FBI's investigation."
Who are Peter Strzok and Lisa Page?
Peter Strzok is an FBI agent who was assigned to both the Clinton email probe and the Russia investigation. He was removed from Special Counsel Robert Mueller's Russia investigation team over the summer, after Mueller learned of the texts. He was reassigned to the FBI's human resources division at that time.
Lisa Page, a lawyer and Strzok's mistress, was briefly on Mueller's Russia investigation team. She left before the text messages were revealed, going back to work in the office of the FBI's general counsel. Page has been described as a trial lawyer with vast experience in money laundering and organized crime cases.
Over the course of their two-year extramarital affair, Strzok and Page exchanged some 50,000 text messages. The last one was written by Page to Strzok on June 23, 2017. "Please don't ever text me again," she wrote. It remains unclear whether that message was written because she had become aware that their text exchanges had been discovered.
Additional text messages outlined in the report include one which raises the question of former president Barack Obama's role in the Clinton email probe, and questions the timeline of when the FBI found out about relevant Clinton emails.
You can share this story on social media: