Pentagon releases footage of Russian Su-27 intercepting US spy plane over Black Sea (VIDEO)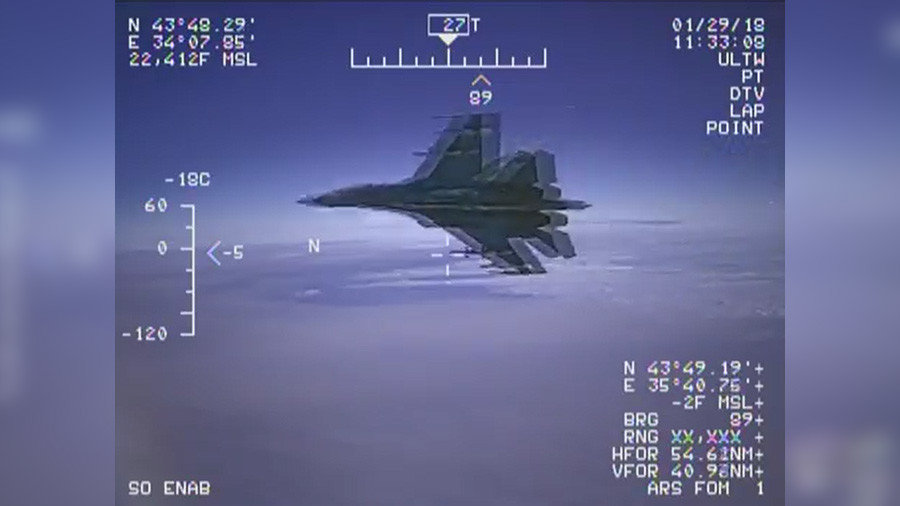 A short video clip, showing a Russian Su-27 passing within meters of a US Lockheed EP-3 surveillance plane has been released by the US military.
The incident occurred over the Black Sea on Monday, when the Russian plane was scrambled to check on an object swiftly approaching the border. The aircraft was identified as a US Navy ЕР-3Е Aries II spy plane. The Russian military stated that the Su-27 followed the plane at a "safe distance" until the US aircraft turned away from the border.
On Tuesday, the US military released a four-second video, showing the Russian plane presumably passing the American spy plane. The Pentagon reiterated its earlier statement, claiming that the intercept lasted "two hours and 40 minutes."
READ MORE: Russian Flanker jet forces US spy plane to change course over Black Sea in 'safe' intercept – MoD
The US decried the intercept as unsafe, since the Su-27 was "closing to within five feet [1.5 meters] and crossing directly through the EP-3's flight path, causing the EP-3 to fly through the Su-27's jet wash."
You can share this story on social media: