'Nasty, mean & vicious': Trump says press has followed him for whole life (VIDEO)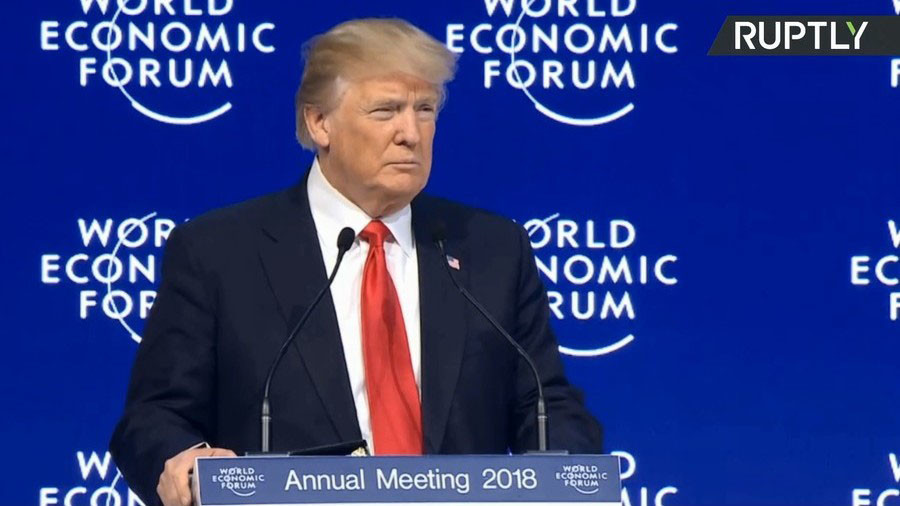 Donald Trump joked about being popular in the press as a businessman than politician during his first Davos appearance, musing he hadn't realised quite how "nasty" and "fake" the media could be before entering the White House.
"I always seem to get a disproportionate amount of press or media, throughout my whole life, somebody will explain some day why, but I've always gotten a lot," the US president said in the Q&A session after his speech.
"As a businessman I was always treated well by the press... It wasn't until I became a politician that I realised how nasty, how mean, how vicious and how fake the press can be," Pointing into the audience, he added, "as the cameras start going off in the background." The comments sparked a smattering of laughter and boos from the room.
The first US president to address the World Economic Forum in 20 years, Trump also cited his experience as a businessman as the reason for the US stock market's strong performance, claiming the market would be 100 points worse off had he not been elected.
"Historically I guess there's really never been a businessman, or business person, elected president," Trump told the at the World Economic Forum audience.
"It's always been a general or a politician, throughout history it's always been a general, you had to be a general, but mostly it was politicians, you never had a businessman."
READ MORE: Davos: Where talk on 'inequality' is cheap, but a burger platter costs $59
"Had the opposing party to me won, some of whom you backed, some of the people in the room, instead of being up almost 50 percent; the stock market is up since my election 50 percent, rather than that the stock market, from that level, would be down close to 50 percent, I really believe that," Trump added.
The Dow Jones industrial average has grown by more than 30 percent in Trump's first year in office – the most significant uptick under any president since Franklin D Roosevelt was elected in 1933.
You can share this story on social media: