'Extraordinary threat to life' after major quake offshore Alaska - state officials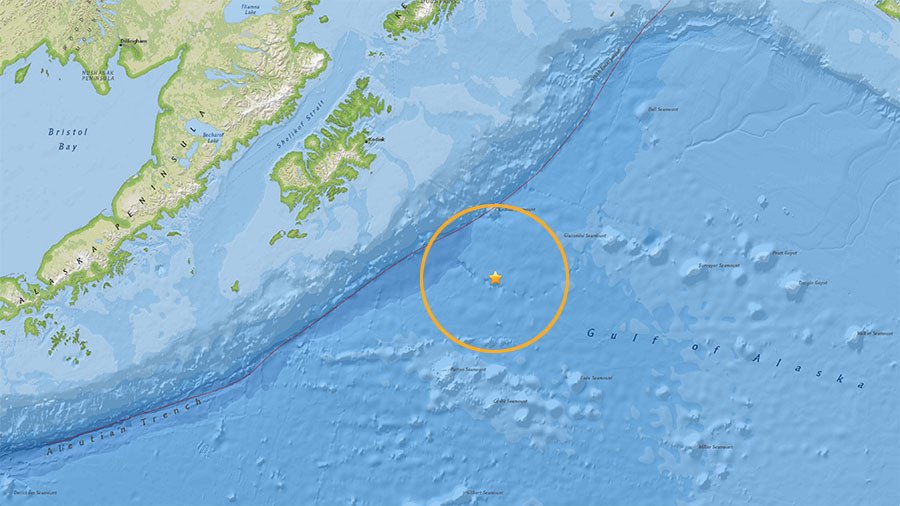 A tsunami warning has been issued for Alaska, with officials warning there is an "extraordinary threat to life or property" following the 7.9 magnitude earthquake in the early hours of Tuesday.
According to the US National Tsunami Warning Center, the earthquake occured 175 miles (281.6 km) southeast of Kodiak City in Alaska at a depth of 12 miles (19.3 km), sparking the alert.
The Kodiak Police Department shared a video on social media urging residents to evacuate. "This is not a drill," Sgt Derek Beaver said, telling people to reach areas that are "100 feet or higher" above sea level.
"Harbour officers report water receding from our harbor," the police wrote on Facebook. "Citizens should remain in place and wait for further updates."
According to the Anchorage Office of Emergency Management, "A tsunami warning is now in effect which includes the coastal areas of British Columbia and Alaska from the Wash./BC border to Attu Alaska."
"Tsunamis are a series of waves dangerous many hours after initial arrival time," it said. "The first wave may not be the largest."
A tsunami watch alert was also issued for the state of Hawaii, but has since been canceled. "Based on all available data there is no tsunami threat to the state of Hawaii," the Pacific Tsunami Warning Center said. "The tsunami watch for Hawaii is now canceled."
Should a tsunami impact Hawaii, the first wave is estimated to arrive at 4:26 am HST (14:26 pm GMT). In Alaska, the estimated tsunami start time for Kodiak is 1:45 am AKST (10:45 am GMT).
Tsunami watches are also in effect in California from the California-Mexico border to the Oregon border, which includes San Francisco Bay, the National Weather Service warned.
According to the United States Geological Survey (USGS), earthquakes with a magnitude of 7.9 and above can cause, "destructive local tsunamis," near the epicenter and, "sea level changes and damage may occur in a broader region."
A tsunami watch alert is issued to areas outside of the warning zone, which, in the case of a quake over magnitude 7.5, is roughly three hours tsunami travel-time from the point of origin.
A tsunami warning means a significant wave is expected which could lead to coastal flooding and create powerful currents which can continue for hours after the first wave arrives. People in tsunami warning areas should evacuate to higher ground or inland to designated tsunami hazard zones.
tsunami sirens going off in kodiak after the earthquake, i usually only ever hear the weekly siren test at 2pm on wednesdays so hearing it at 1am on tuesday is actually terrifying!! pic.twitter.com/ea5y7U6xnf

— kylie j (@scarygirI) January 23, 2018
Videos circulating on social media show people evacuating the community of Kodiak in Alaska, and tsunami warning sirens can be heard in the background.
Think your friends would be interested? Share this story!
You can share this story on social media: