Govt shutdown: Democrats putting needs of non-citizens over those of citizens, Trump says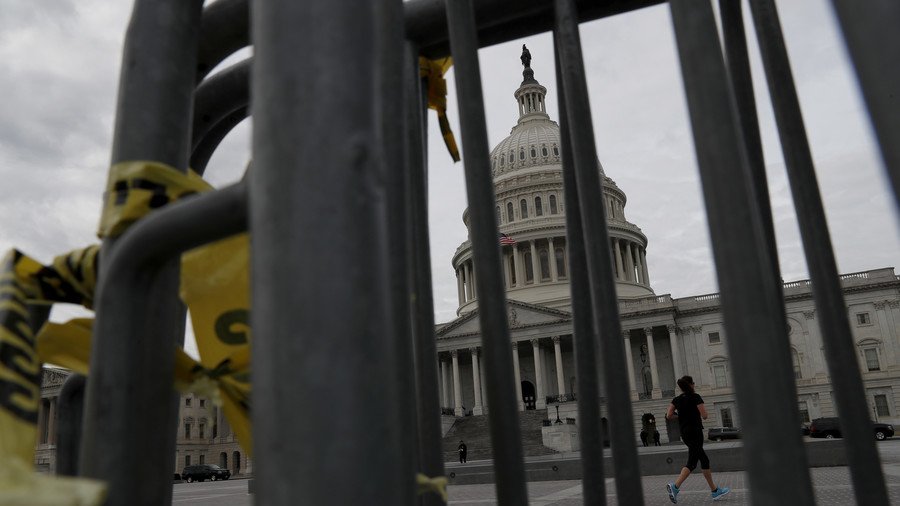 In true Trump fashion, the president took to Twitter to blame Democrats for the government shutdown, saying it's in the interest of their "far-left base." He also accused them of putting the needs of non-citizens over citizens.
US President Donald Trump reiterated his Sunday threat to use the "nuclear option," urging Republicans to "go 51 percent" and vote on a "real, long-term budget" if the stalemate continues. The procedure allows the Senate to override the rule requiring 60 votes to pass a legislation.
Prior to that, he tweeted that Democrats are to blame for the current state of affairs. "Democrats have shut down our government in the interests of their far left base. They don't want to do it but are powerless!" Trump tweeted on Monday, referring to the shutdown which began at midnight on Friday, after the two parties failed to reach an immigration and spending deal.
He also accused Democrats of "turning down services and security for citizens in favor of services and security for non-citizens. Not good!" That remark is in reference to the fact that the shutdown has left government programs paralyzed, and hundreds of thousands of US federal workers on forced unpaid leave.
The government shutdown came after House Republicans passed a bill on Thursday which would fund the government for four weeks and extend the Children's Health Insurance Program for six years. The bill failed to advance after 45 Senate Democrats and five Senate Republicans voted against it on Friday. Those who rejected the bill did so because it did not include legal protections for young immigrants known as 'dreamers.'
The topic of immigration has fueled constant debate between Democrats and Republicans, particularly as related to the Deferred Action for Childhood Arrivals (DACA) program and dreamers.
Efforts to reach a compromise failed on Sunday. The Senate is now scheduled to vote at noon local time on Monday on whether to re-open the government. White House and senior Republicans are standing firm, stating that they will not negotiate on "illegal immigration" until the government is re-opened.
It comes after a memo earlier this month from the left-leaning Center for American Progress Action Fund called on Democrats to make the fight for DACA recipients a "moral imperative," warning that otherwise they could jeopardize their chances in the 2018 mid-term races.
Democrats rely on a large Latino voter base, with around 64 percent of such voters identifying as belonging to the party in 2016, according to Pew Research Center. Meanwhile, 66 percent of voters that year agreed that new immigration laws were "extremely important."
Meanwhile, Trump isn't the only one to finger-point when it comes to the government shutdown. Senate Minority Leader Chuck Schumer has called it the "Trump shutdown," accusing the president of not doing enough to reach a compromise.
Some Republicans have also jumped on board when it comes to blaming the Trump administration, with Lindsey Graham (R-S.C.) stating that the president's top aides are responsible for the shutdown. "I've talked with the President — his heart is right on this issue," Graham told reporters on Sunday. "He's got a good understanding of what will sell, and every time we have a proposal, it is only yanked back by staff members."
Like this story? Share it with a friend!
You can share this story on social media: