Are you following? Tillerson admits using Trump's tweets for setting foreign policy issues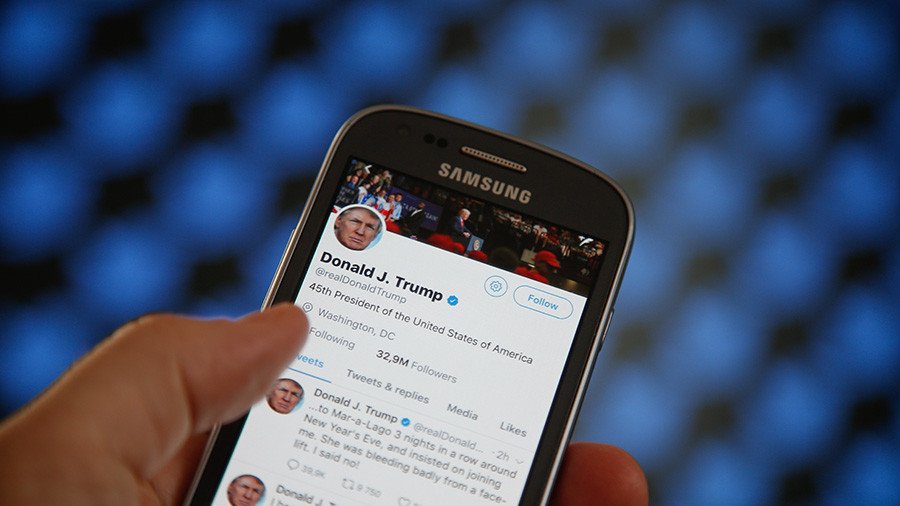 US Secretary of State Rex Tillerson has admitted to printing out Donald Trump's daily barrage of tweets in an apparent effort to adjust American foreign policy. He described the president as being "world-class at social media."
In a world when so much hinges on the simple press of a button – from launching a controversial tweet to launching a ballistic missile – it may come as no surprise that the US State Department closely watches President Trump's tweets.
Few, however, could have imagined that Trump's social media obsession with hammering out daily tweets to his millions of followers has come to play a crucial part in formulating American foreign policy.
Until now, that is.
During a speaking engagement hosted by Stanford University, Tillerson was asked by Condoleezza Rice, the former secretary of state in the Bush administration, "how do you deal with the constant pressure of social media, especially out of the White House?"
Tillerson gave an answer that certainly raised some eyebrows, while underscoring the important role that social media plays for the current administration.
"The challenge is getting caught up because I don't even have a Twitter account that I can follow what he is tweeting, so my staff usually has to print his tweets out and hand them to me," he admitted.
"By the time I find out about it, there's actually been some period of time – and depending on where I am in the world, it might be five minutes or it might be an hour – before somebody hands me a piece of paper and says, 'hey, the president has just tweeted this out.'"
Tillerson said he is then forced to consider whether the Trump message, "is...a foreign policy issue? What is it he's tweeting about, and how do we take that and now use it?"
He explained that once a particular tweet by the president goes out, "I don't know it's going to go out, so there's not a whole lot I'm going to do until it's out there."
The former ExxonMobil CEO said that on the one hand people might criticize the method and say, "well, that's nuts. Why don't you get an account?"
Tillerson said that he eventually concluded that being provided Trump's tweets by his staff is "not a bad system."
The secretary of state explained that he is able to respond to the "early reactions" generated by any given Trump message. At the same time, however, Tillerson suggests that he is occasionally taken by surprise by the president's social media comments, which may potentially put Trump and Tillerson at loggerheads on critical issues at critical times.
Perhaps the best example of the president and his secretary of state working at cross purposes came in late September when talk of imminent war with North Korea was in the air.
...Save your energy Rex, we'll do what has to be done!

— Donald J. Trump (@realDonaldTrump) October 1, 2017
Tillerson, in an apparent effort to defuse the tensions, said the US had "a couple of, three channels open to Pyongyang."
"We can talk to them. We do talk to them," he told a group of reporters, without elaborating.
I told Rex Tillerson, our wonderful Secretary of State, that he is wasting his time trying to negotiate with Little Rocket Man...

— Donald J. Trump (@realDonaldTrump) October 1, 2017
Trump immediately scuttled Tillerson's diplomatic efforts on Twitter.
"I told Rex Tillerson, our wonderful secretary of state, that he is wasting his time trying to negotiate with Little Rocket Man," the president exclaimed via Twitter.
Think your friends would be interested? Share this story!
You can share this story on social media: