Virgin Galactic's Unity spaceplane successfully completes first 2018 test flight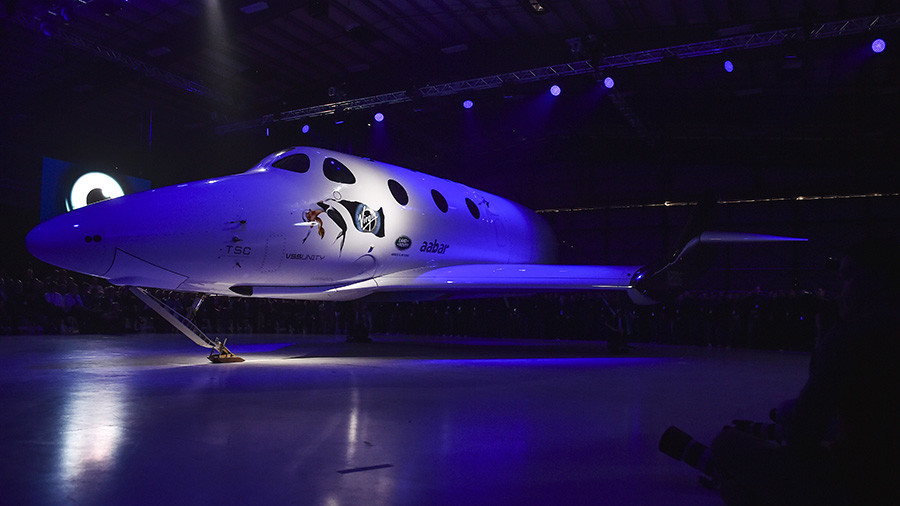 Virgin Galactic conducted its first spaceplane test of the year with a high-speed flight over California's Mojave desert. The reusable winged spacecraft is designed to carry up to eight people beyond the final frontier.
Thursday's test flight, Unity's eleventh, went according to plan. "The glide flight tested transonic flight performance, stability and control," said Virgin Galactic in a statement following the exercise. "After release from mothership VMS Eve, the spaceship was immediately pushed into a sharp descent, accelerating to Mach 0.9, which is around the maximum airspeed we can achieve without igniting the rocket motor!"
The spaceplane is carried to altitude by its mothership at approximately 50,000 feet. Soon the spaceplane will be able to fly into the upper atmosphere itself using its rocket engines and then glide back to Earth to perform a conventional runway landing.
The spaceplane is manufactured by The Spaceship Company, a California-based firm owned by Virgin Galactic.
Touch down! Another smooth landing for VSS Unity. In VSS Unity today were pilots Mark Stucky and Michael Masucci #SpaceShipTwo

— Virgin Galactic (@virgingalactic) January 11, 2018
Designed to reach 2,600mph (42,000km/h) using a single hybrid rocket engine, Unity's wingspan is 27 feet, (8.2 meters), while the 15-foot (4.6 meter) high ship's full length is 60 feet (18 meters). Its orbital speed will be 16,000mph (25,000km/h). The hybrid rocket engine uses liquid nitrous oxide oxidizer. For propellant, the engine was originally design to burn rubber-based hydroxyl-terminated polybutadiene (HTPB), but the company said it is switching to plastic-based thermoplastic polyamide for better performance.
The spaceship was officially unveiled to the public on December 7, 2009 at the Mojave Air and Space Port in California. The company conducted its first powered test flight in 2013.
In October 2014, the company's first spaceplane, the VSS Enterprise, broke up during a test flight and crashed in the Mojave desert, according to the New York Times. A preliminary investigation suggesting the feathering system, the craft's descent design, deployed too early, according to NTSB. One pilot was killed; the other was treated for a serious shoulder injury after parachuting from the stricken spacecraft.
In 2017, the FAA approved a revision to Virgin Galactic's Commercial Space Transportation Licenses, which means the company will be able to perform flights out of Spaceport America in New Mexico. Virgin also announced the Kingdom of Saudi Arabia will invest $1 billion in its efforts.
The test is seen as a possible prelude to a flight that will include the firing of the suborbital spaceplane's hybrid rocket engine. A return to rock-powered testing will mark a major milestone for the company.
SpaceShip Two is set to launch out of Spaceport America in the near future.
Virgin Galactic plans to operate a fleet of five SpaceShip Two spaceplanes in a private passenger-carrying service and has been taking bookings for some time, with a suborbital flight carrying an updated ticket price of $250,000. The spaceplane could also be used to carry scientific payloads for NASA and other organizations.
You can share this story on social media: