Deal or no deal? Trump rejects bipartisan DACA & border security agreement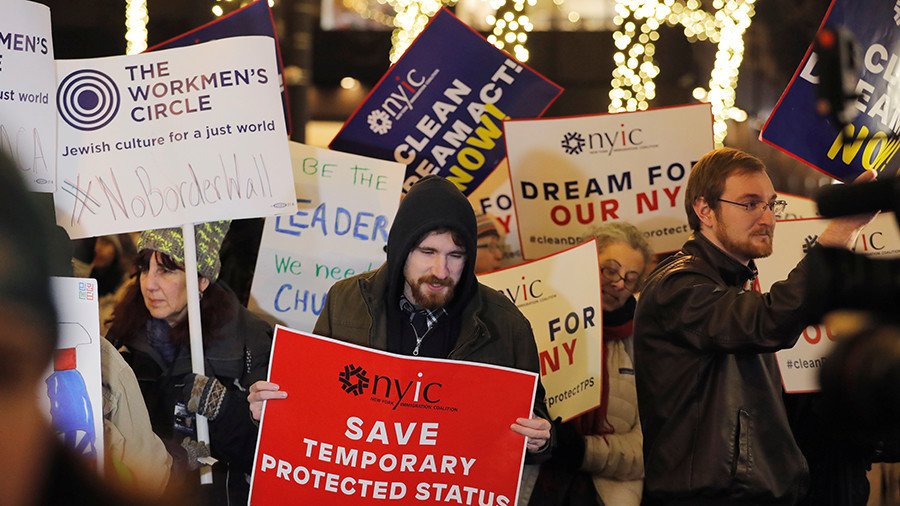 After months of negotiations, a bipartisan group of senators reached a deal to provide protections to so-called Dreamers. However, President Donald Trump has rejected it, according to multiple reports.
Senators Lindsey Graham (R-South Carolina) and Dick Durbin (D-Illinois) said a group of six senators reached a deal Thursday that would provide protections for recipients of the Deferred Action for Childhood Arrivals (DACA) program in exchange for additional border security funding.
"President Trump called on Congress to solve the DACA challenge," the senators said in a joint statement. "We have been working for four months and have reached an agreement in principle that addresses border security, the diversity visa lottery, chain migration/family reunification, and the Dream Act — the areas outlined by the President. We are now working to build support for that deal in Congress."
Durbin added that a group of senators is "working to build support for that deal in Congress."
According to the Washington Post, Trump grew frustrated with the deal over the changes to the visa lottery, which he said would bring in immigrants from "sh*thole countries."
"Certain Washington politicians choose to fight for foreign countries, but President Trump will always fight for the American people," White House spokesperson Raj Shah said in a statement.
The White House did not deny Trump's comments, which have gained a lot of attention since the Washington Post report.
"Like other nations that have merit-based immigration, President Trump is fighting for permanent solutions that make our country stronger by welcoming those who can contribute to our society, grow our economy and assimilate into our great nation," Shah said in a statement after the meeting.
Specifically, Republicans agreed to provide a path to citizenship for DACA recipients as well as temporary protection status for the parents of DACA recipients. In exchange, Democrats agreed to commit $2.7 billion to fund border security, which includes $1.6 billion for Trump's border wall and $1.1 billion for additional security infrastructure and technology, sources told Politico.
Additionally, the group of senators reportedly agreed to cut the visa lottery program by 50 percent and restore Temporary Protected Status to immigrants from countries facing natural disasters or civil strife. The Trump administration has recently removed protections for citizens of El Salvador, Nicaragua, Haiti and Sudan.
Durbin and Graham went to the White House on Thursday, where Trump reportedly rejected the deal, according to multiple reports.
"I'm not sure what the next step will be," Durbin said, according to CNN. "The President invited us – at his little get-together in the Cabinet room – to come up with proposals, and we did. It's a bipartisan proposal, which we've worked on for four months in the Senate, and I don't know what happens next."
After the meeting, White House Press Secretary Sarah Huckabee Sanders repeatedly stated that no deal was reached, but added that the White House is "very focused" on reaching a deal soon.
"The president has been clear about what his priorities are in that process and we're going to continue working with members of the House and the Senate, Republicans and Democrats, to make sure that we try to get that deal done," Sanders said.
You can share this story on social media: