Trump slams 'sneaky Dianne Feinstein,' calls on GOP to take control over Russia probe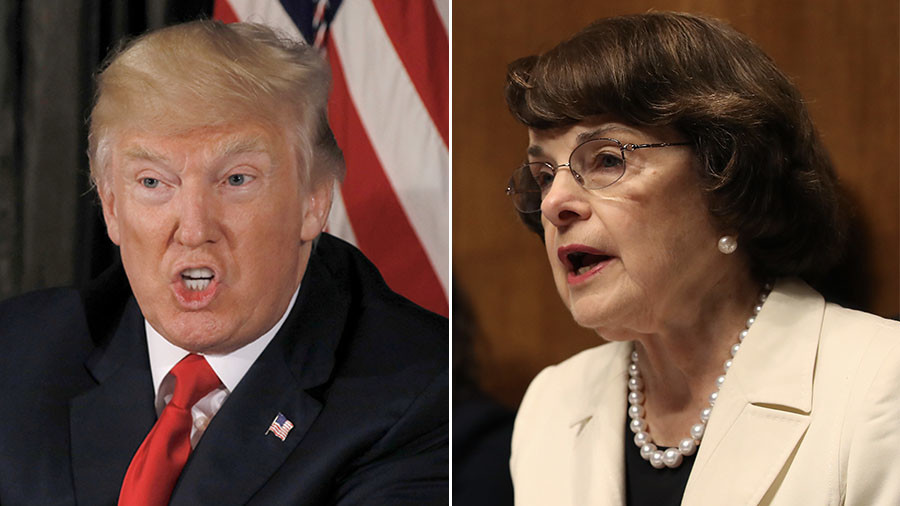 Donald Trump has lashed out at "sneaky" Sen. Dianne Feinstein for releasing a transcript of the interview that Fusion GPS co-founder Glenn Simpson gave to the Senate Judiciary Committee in August.
"The fact that Sneaky Dianne Feinstein, who has on numerous occasions stated that collusion between Trump/Russia has not been found, would release testimony in such an underhanded and possibly illegal way, totally without authorization, is a disgrace..." Trump tweeted.
He went on to call for Feinstein to face a "tough" primary challenge in her 2018 reelection campaign. The 84-year-old announced her bid in October.
In a separate Tweet, Trump referred to the Russia investigation as the "single greatest Witch Hunt in American history..."
"There was no collusion, everybody including the Dems knows there was no collusion, & yet on and on it goes. Russia & the world is laughing at the stupidity they are witnessing. Republicans should finally take control!" he wrote.
The 312-page transcript released by Feinstein includes the words uttered by Simpson during his August interview, which was part of the Senate Judiciary Committee's investigation into alleged Russian meddling. Simpson is the co-founder of Fusion GPS, a political intelligence firm which compiled the infamous Trump dossier.
Fusion GPS was hired on behalf of Hillary Clinton's campaign and the Democratic National Committee (DNC) by their law firm to compile information about Trump, his businesses, and associates, including possible links to Russia.
Among the most startling statements made during Simpson's interview was when he said that "somebody's already been killed" as a result of the dossier's publication. His lawyer, Josh Levy, backed up that statement, saying: "Somebody's already been killed as a result of the publication of this dossier and no harm should come to anybody related to this honest work."
Defending the release of the transcript on Tuesday, Feinstein said it was necessary in order to combat false information circulating about the Simpson interview.
"The innuendo and misinformation circulating about the transcript are part of a deeply troubling effort to undermine the investigation into potential collusion and obstruction of justice," she said in a statement, referring to allegations of ties between the Trump campaign and Russia. "The only way to set the record straight is to make the transcript public."
Trump has dismissed the information contained in the dossier, which was handed over to the FBI by former MI6 agent Christopher Steele in September 2016.
Several Republican-led committees are currently probing whether the document formed the basis for the FBI's initial investigation into alleged Russian meddling in the 2016 presidential race.