Ajit Pai cancels industry trade speech over death threats – report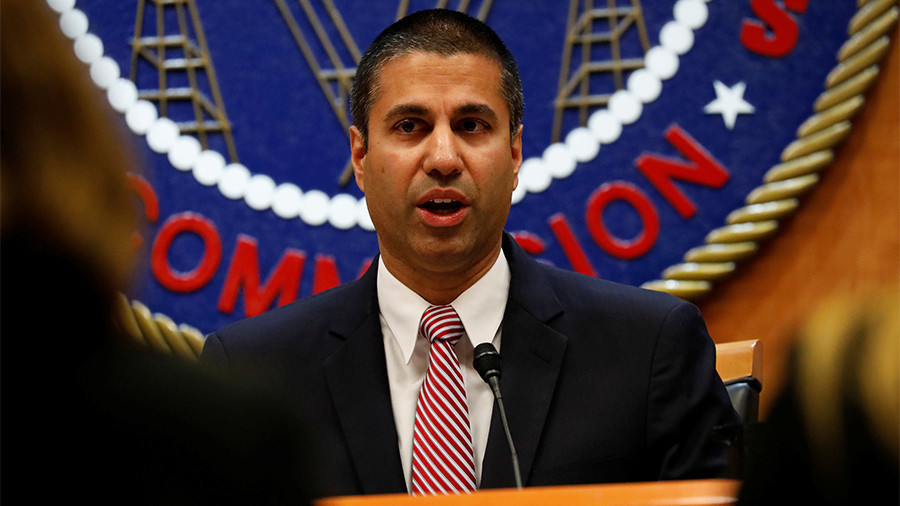 Weeks after repealing net neutrality, Federal Communications Commission (FCC) Chairman Ajit Pai canceled a planned appearance at a tech industry trade show because of death threats, according to a report.
On Wednesday, Gary Shapiro, president of Consumer Technology Association (CTA), released a statement that said Pai would not be attending the Consumer Electronics Show (CES) in Las Vegas this year.
"Unfortunately, Federal Communications Commission Chairman Ajit Pai is unable to attend CES 2018," Shapiro said. "We look forward to our next opportunity to host a technology policy discussion with him before a public audience."
CTA, which runs the CES conference, did not provide the reason for Pai's decision. However, two unnamed agency sources told Recode that Pai canceled his appearance after receiving death threats.
On Thursday, Shapiro told Digital Trends that Pai did not tell him why he was canceling his appearance, but speculated that his decision had to do with his personal security.
"He and his family have been subject to vicious and direct attacks and threats and any decision he makes regarding his own travel is fine with me," Shapiro said.
The sources added that federal law enforcement agencies have "intervened in the matter."
In November, CTA announced Pai would join Federal Trade Commission's (FTC) acting chairwoman Maureen Ohlhausen next Tuesday for a "candid discussion" about the 2018 regulatory agenda of the agency. Ohlhausen is still scheduled to attend the event.
It would have been Pai's sixth time speaking at the event Las Vegas and his first as FCC chairman.
RT America reached out to a spokesperson for CTA and are waiting to hear back.
Pai became a target of death threats after he unveiled his plan to repeal the regulations put in place under former President Barack Obama in 2015.
The FCC established net neutrality regulations to reclassify broadband as Title II "common carriers" under the Communications Act of 1934. Under the rules, the FCC was given the authority to regulate Internet service providers (ISPs) such as AT&T, Comcast and Verizon – similar to utilities – subjecting the entities to more government oversight.
Under the new directives, the FTC will be in charge of overseeing ISPs, as they were before net neutrality was established.
This is the second time Pai has been threatened in recent weeks.
Moments before the FCC voted to repeal the rules in December, the room was evacuated in response to a security threat. Homeland Security police quickly cleared the room, but they did not provide any information on the nature of the security threat, prompting speculation that someone might have called in a bomb threat.
On Thursday, the FCC released the final text of the Restoring Internet Freedom order.
FTC Commissioner Terrell McSweeny, who has voiced opposition to repealing net neutrality, tweeted Thursday that it was "unacceptable" to threaten a public servant because of their views.
You can share this story on social media: