Over 20 injured in Bronx building blaze (PHOTOS, VIDEO)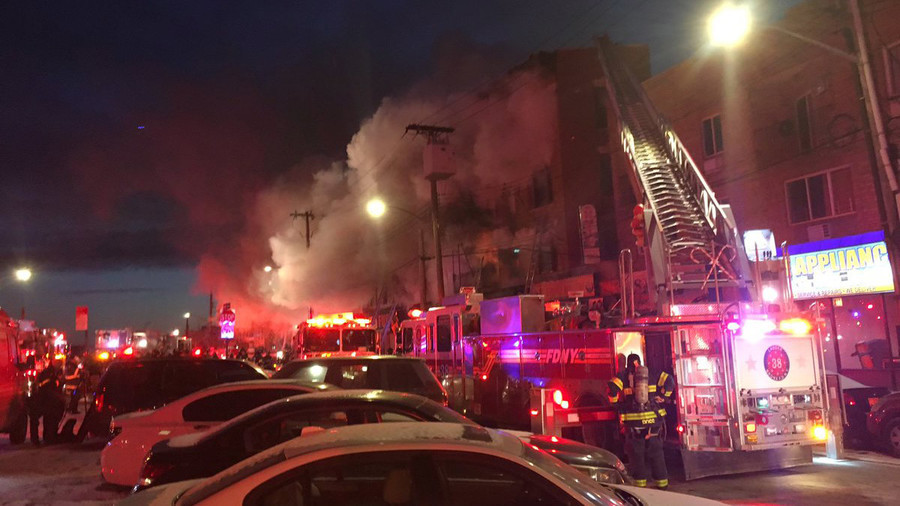 At least 23 people were injured when a building caught fire in the Bronx, New York City Tuesday. The blaze comes less than a week after 12 people died in another apartment block fire in the borough.
"Our units arrived and were immediately faced with heavy fire," Fire Commissioner Daniel Nigro said as cited by AP. At least 23 people, including one firefighter and at least nine children, were among the injured, he added.
The victims were taken to hospital, with Nigro describing their injuries as non-life-threatening. "They will all be OK, thankfully," he said.
The 7-alarm fire started at Commonwealth Avenue, some 500 meters away from the Bronx Zoo, and 200 firefighters were dispatched to stamp out the flames. Their efforts were complicated by the below zero temperatures in New York on the day, with icicles forming on the power lines.
The affected building has retail spaces and three floors of apartments. The fire apparently broke out on the first floor that houses a furniture store, Nigro said.
In late December, at least 12 people were killed and many seriously injured in another apartment fire in the Bronx. It was the deadliest residential fire to hit New York City in at least a quarter century.
You can share this story on social media: