US court rejects challenge to Trump's voter fraud commission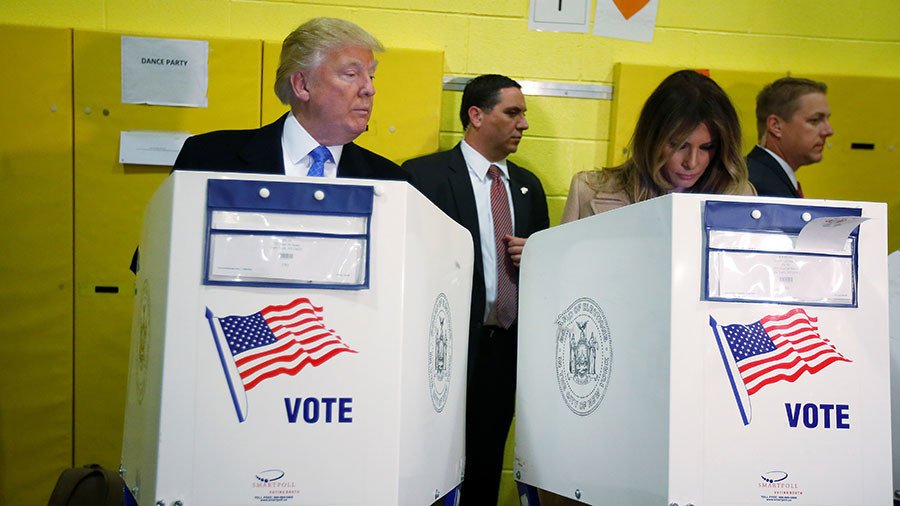 An electronic privacy advocacy group is "not a voter" and lacks the standing to sue the Trump administration's voter fraud commission over the collection of voter data, a federal judge has ruled.
Judge Stephen Williams, of the DC Circuit Court of Appeals, ruled Tuesday that the Electronic Privacy Information Center (EPIC) could not show that it was harmed by President Donald Trump's Presidential Advisory Commission on Election Integrity, which has requested all states provide voter information such as names, addresses and Social Security numbers.
EPIC had argued that the commission, created by an executive order in May, was violating the 2002 E-Government Act and committing "unlawful agency action." The nonprofit had claimed the commission was required to release an impact assessment on privacy implications. Judge Williams disagreed.
"It was a surprising outcome," EPIC President Marc Rotenberg told The Hill. The advocacy group will reportedly ask for a re-hearing.
In addition to ruling that EPIC was "not a voter" and did not represent voters, the judge found that they "suffered no informational or organizational injury from the defendants' attempt to collect voter data without first producing an assessment."
Trump repeatedly brought up voter fraud during his 2016 campaign in anticipation of a "rigged" outcome. After winning the election, he claimed that California, New Hampshire and Virginia had a "serious voter fraud" problem. He also tweeted that he would have "won the popular vote if you deduct the millions of people who voted illegally" and that the popular vote was easier to win than the Electoral College.
Campaigning to win the Electoral College is much more difficult & sophisticated than the popular vote. Hillary focused on the wrong states!

— Donald J. Trump (@realDonaldTrump) December 21, 2016
In January 2017, the president cited the app VoteStand's unverified claim that at least 3 million illegal votes were cast.
Look forward to seeing final results of VoteStand. Gregg Phillips and crew say at least 3,000,000 votes were illegal. We must do better!

— Donald J. Trump (@realDonaldTrump) January 27, 2017
Several organizations have launched separate lawsuits against the Trump administration over the voter commission, including the American Civil Liberties Union (ACLU), Common Cause and the National Association for the Advancement of Colored People (NAACP).
READ MORE: 11 California counties have more registered voters than eligible adults – report
The commission has no legal power to coerce or compel states to release voter data. Arkansas, Colorado, Florida, Ohio and Washington state have all complied with the requests, however. California, Kentucky, Maine, Minnesota, New Mexico and South Carolina have all signaled their unwillingness to cooperate, while 26 other states are either charging fees for the data or participating in a limited way. No voter information has been collected since EPIC's lawsuit was launched in July.
"No action or analysis is currently being taken with respect to the state data submitted to the commission," the commission's Designated Federal Officer Andrew Cossack told the court earlier this month, according to The Hill.
The Trump administration claims the commission is not required to give an impact assessment on potential privacy risks since it isn't a federal agency. EPIC has argued that it should be recognized as a federal agency as it operates under one, the General Services Administration.
The commission is expected to release a report in 2019. Its vice chair, Kansas Secretary of State Kris Kobach, told Fox News that there have been 938 voter fraud convictions since 2000, which he called just the "tip of the iceberg."
You can share this story on social media: