US military alerted over North Korean propaganda leaflets at bases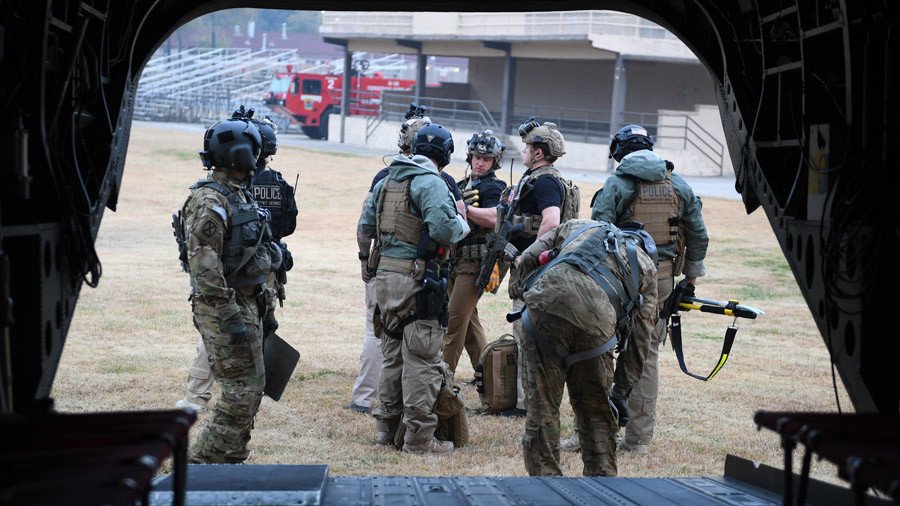 The US military in South Korea has warned service personnel of propaganda leaflets from the North being distributed across US bases in the peninsula, calling on soldiers to report any trace of activity from Pyongyang.
The warning was posted on the official Facebook account of the Eighth United States Army stationed at the Yongsan Garrison near Seoul. "Alert! North Korean propoganda(sic)," read caption in bold red. The military was apparently in a hurry to get its message out, making a spelling mistake in a key word, as picked up on by several readers.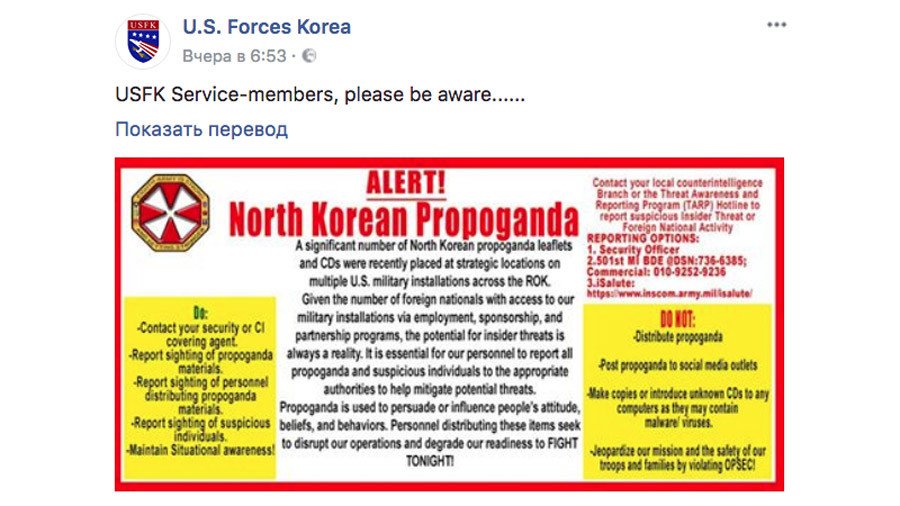 The text of the statement warned that Pyongyang has distributed "a significant number" of propaganda leaflets across "multiple US military installations" in South Korea. "Given the number of foreign nationals with access to our military installations via employment, sponsorship and partnership programs, the potential for insider threats is always a reality," the alert said.
The army came up with nearly a dozen 'do's and don'ts' on how service personnel should handle propaganda material, mainly urging them "to report all [propaganda] and suspicious individuals to the appropriate authorities to help mitigate potential threats."
An 'anti-propaganda' hotline and special website have been set up to that end. Making copies of "unknown CDs to any computers" is banned as part of the anti-propaganda strategy.
Images purportedly showing Pyongyang propaganda leaflets issued in November and December have been posted on Instagram. The materials were reportedly carried by balloons, which have been used by both Seoul and Pyongyang to distribute propaganda material since the conflict on the peninsula began back in 1950.
The pictures all have variations of US presidential caricatures.
In November, senior high school student Minkyu Kwak from Seoul told the Korea Expose website that he had found several leaflets in "bushes, the backyard of the school's main building, and in the alley by the school cafeteria." He posted the photos on his website.
"Subdue with fire at all costs. [US President Donald] Trump is an old beast-lunatic," one of the leaflets said, according to a Korea Expose translation. South Korean President Moon Jae-in was branded "Trump's lap dog."
One leaflet reportedly featured a hostile warning from North Korean leader Kim Jong-un: "As a man representing the DPRK [North Korea] and on behalf of the dignity and honor of my nation, my people and everything I have, I will make the US commander-in-chief pay dearly for wanting to annihilate our republic," the note read.
You can share this story on social media: