The Truth is out there! A mystery worthy of the X-Files faces US residents (VIDEOS, POLL)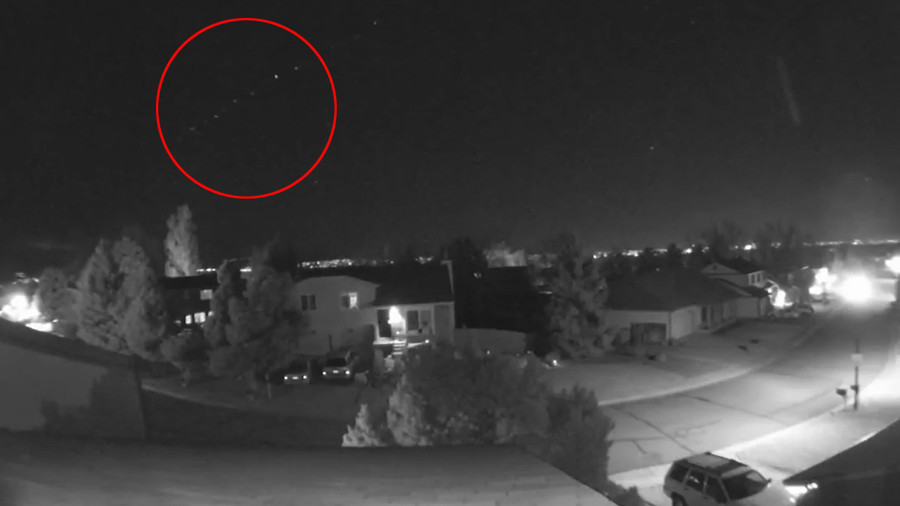 A mysterious pattern of lights, accompanied by a rather ominous hum, was spotted across large swathes of the United States Saturday night. Plane spotters and stargazers alike were baffled and local residents scared from Illinois to as far as Utah.
Local media across the US began receiving reports and video footage of what appeared to be, and sounded like, aircraft flying in formation. However, the sheer size of the visible phenomenon fuelled wild speculation online.
Theories ranged from military planes, presumed to be C-17s or C-130s, flying in formation, to UFOs and even suggestions that Santa's elves were doing some preliminary reconnaissance before the big night on December 24.
Anyone see the 13 plus planes flying in a bird type pattern with all their red lights in sync flying over Denver headed west?

— Daniel (@Daniel_1327_) December 10, 2017
"When we first noticed the formation it was horizontally stretched out, then it seemed to hover over the lake in front of our house, and then it flew in a vertical line directly over our house. Interesting but very strange to say the least," Marci Arant, a South Carolina resident, told RT.com. "My 10 year old was worried we may be getting bombed."
The unidentified lights seemed to be flying in a westerly direction, fuelling speculation that they might be aircraft forming part of relief efforts for beleaguered California that has been scorched by a series of intense wildfires in recent days.
Denver's South Metro Fire Department spokesperson Eric Hurst uploaded security camera footage from outside his home which captures the full extent of the formation.
"Strange lights recorded on our roof mounted Nest camera in Littleton which faces northwest. The lights moved from east to west starting at 8:55 p.m. These are possibly a military C-17 formation," Hurst wrote.
The FAA, Shaw Air Force Base, McEntire Joint National Guard Base, Columbia Metropolitan Airport all denied any knowledge of or involvement in the puzzling shenanigans.