Fireball blazes across NJ night sky in Police dashcam VIDEO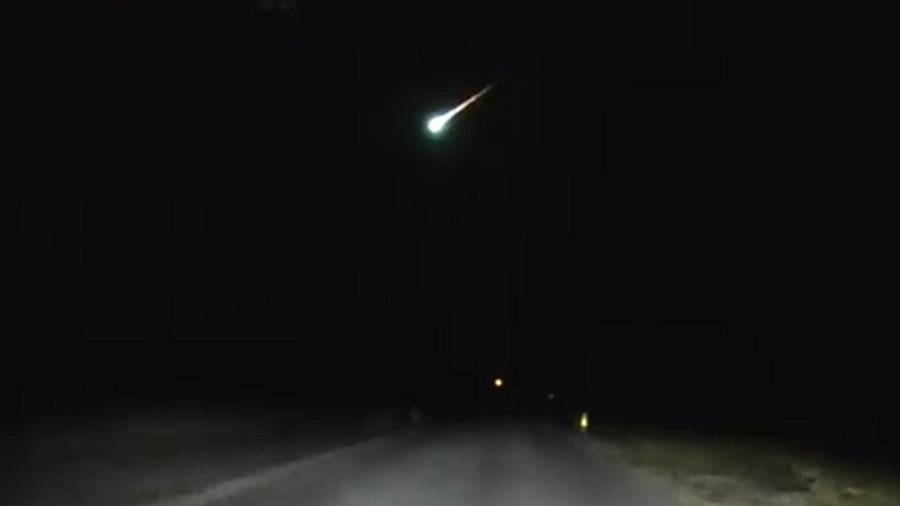 Police dashcam has captured a dazzling fireball brightening up the night sky in New Jersey with a lime green light. Witnesses across more than a dozen states said they saw the "shooting star" streak across the sky.
The footage, which is now being shared online, was released on Facebook by the police department of Hamilton Township, New Jersey, on Thursday. Local police officer Michael Virga was on patrol December 2 when his vehicle dashcam caught a glowing object in the sky, followed by a second of a nighttime daylight.
READ MORE: Bronze Age iron weapons 'came from outer space', claims new study
"It kind of took me by surprise," Virga told local NJ.com website, "I just saw a little blip – it lit up the entire sky like a lime green streak."
The American Meteor Society (AMS) confirmed that the ball of fire was indeed a very bright meteor, adding that it had received numerous reports from people who saw the rare phenomenon on December 2. AMS defines a fireball as a "very bright meteor, generally brighter than magnitude -4, which is about the same magnitude of the planet Venus in the morning or evening sky."
AMS says that the intense light "was seen primarily" from Pennsylvania. The flash was also spotted across more than a dozen states, including New Jersey, New York, Maryland, Virginia and Massachusetts.