Exclusion of collusion: MSM ignores Trump officials' collusion… with Israel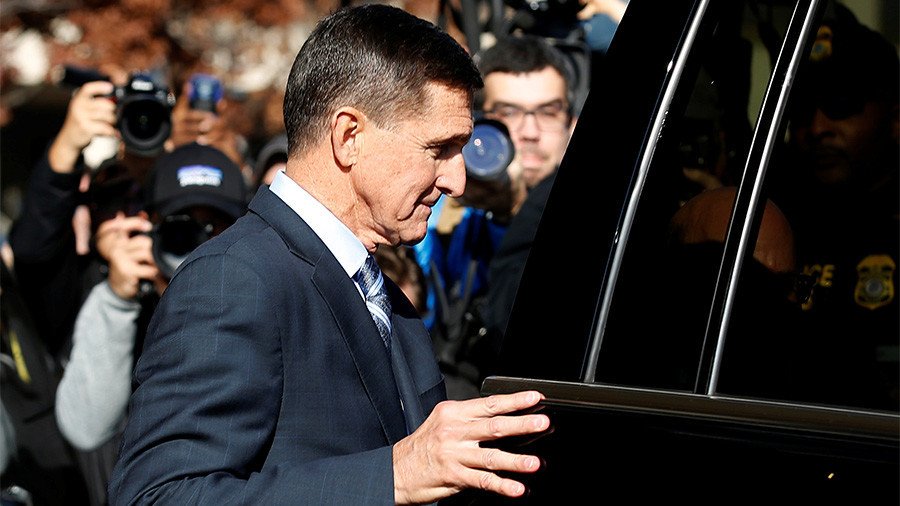 Media hysteria over alleged Russian collusion continues, even as short-lived national security adviser, Gen. Michael Flynn, pleaded guilty to lying to the FBI about speaking with Russian officials to advance Israeli interests.
On Friday, Flynn pleaded guilty to lying to federal investigators twice during an interview with the FBI in January, according to a signed Statement of Offense.
An indictment released by the office of special prosecutor Robert Mueller says that Flynn spoke with Sergey Kislyak, then-Russian Ambassador to the United States, twice in December, when Trump was president-elect.
According to the court documents, Flynn contacted Kislyak on December 29, 2016, the day after former President Barack Obama signed an executive order imposing sanctions against Russia as punishment for alleged Russian "meddling" in the 2016 US presidential elections.
While various talking heads have claimed that Flynn was working to undermine Obama's sanctions, the documents only show Flynn asked Russia to "refrain from escalating the situation in response to sanctions that the United States had imposed against Russia."
Shortly after, Russian President Vladimir Putin announced that Moscow would not expel any US diplomats, but rather invite them to the Kremlin for holiday celebrations.
On Friday, Senator Dianne Feinstein (D-California), the ranking member on the Senate Judiciary Committee, said that Flynn's guilty plea was "a stunning revelation" that showed the former national security advisor violated the Logan Act
The Logan Act of 1979 calls for the prosecution of any US person who "directly or indirectly commences or carries on any correspondence or intercourse with any foreign government or any officer or agent thereof, in relation to any disputes or controversies with the United States, or to defeat the measures of the United States."
"This shows a Trump associate negotiating with the Russians against US policy and interests before Donald Trump took office and after it was announced that Russia had interfered in our election," Feinstein said in a statement.
(1/2) Michael Flynn's guilty plea is about more than just lying to the FBI. This shows a Trump associate negotiating with the Russians against U.S. policy and interests before Donald Trump took office and after it was announced that Russia had interfered in our election.

— Sen Dianne Feinstein (@SenFeinstein) December 1, 2017
Only two people have ever been indicted under the Logan Act, and no one has ever been prosecuted. If convicted, Flynn could face up to three years in federal prison.
While Flynn's plea does not show any direct evidence that the Trump campaign colluded with Russia to influence the election, it does show that they might have colluded with an entirely different foreign government to undermine the foreign policy of a sitting president.
On December 22, 2016, Flynn contacted Kislyak to ask if Russia would delay or defeat a UN Security Council vote criticizing Israeli settlements. UN Resolution 2334 demanded that Israel "immediately and completely cease all settlement activities in the occupied Palestinian territory, including East Jerusalem" and said that the settlements established by Israel have "no legal validity and constitutes a flagrant violation under international law."
In December, a senior Israeli official told CNN that his country reached out to the Trump campaign after it failed to persuade the Obama administration to veto the resolution.
The officials said that Israel "implored the White House not to go ahead and told them that if they did, we would have no choice but to reach out to President-elect Trump."
The day after the resolution was submitted, the Justice Department said that "a very senior member of the Presidential Transition Team" directed Flynn to contact "several foreign governments, including Russia," in order to "learn where each government stood on the resolution and to influence those governments to delay the vote or defeat the resolution."
The resolution was adopted on December 23 after Obama instructed his ambassador to the United Nations to abstain from the vote and all other countries on the Security Council, including Russia backed the resolution.
Flynn did contact Russians, just as he did as instructed to contact all foreign ambassadors and foreign ministers on the UN Security Council to ask them to change their vote until Obama was out of office.
On Friday, a Trump transition official told Buzzfeed that Jared Kushner, Trump's senior advisor and son-in-law, was the one who ordered Flynn to make the calls.
"Jared called Flynn and told him you need to get on the phone to every member of the Security Council and tell them to delay the vote," the official told Buzzfeed.
Flynn also contacted the US missions of Uruguay and Malaysia, while Kushner contacted the British ambassador to the United States in the hours before the vote, two diplomats familiar with the conversations told Reuters.
Kushner reportedly told Flynn that "this was a top priority for the president."
However, Newsweek reported Saturday that Kushner failed to disclose his role as co-director of the Charles and Seryl Kushner Foundation between 2006 and 2015, during which time it funded an illegal Israeli settlement. This could have been seen as a conflict of interest in his appointment as the Trump advisor tasked with bringing peace to the Middle East.
On Sunday, Kushner conducted an interview with Haim Saban, a prominent Clinton Foundation donor, who thanked him for "taking steps to try and get the United Nation Security Council to not go along with what ended up being an abstention by the US against a 50-year-old tradition."
"To be honest with you, as far as I know there's nothing illegal there," Saban said. "But I think that this crowd and myself want to thank you for making that effort, so thank you very much."
On cable news, Russiagate garners ratings, but there has been scant coverage of Israel's influence peddling that led Flynn to contact Kislyak.
On Monday night, Chris Matthews closed his monologue on MSNBC's Hardball asking why the Trump administration would direct Flynn "to tell the Russian ambassador what he wanted done in regard to US sanctions, what he wanted Russia to do in regards to Israel?"
"Russia, Russia, Russia. It's been the pattern of the year," Matthews said in his next breath.
Again, the obvious intended beneficiary of the Kushner-directed calls made by Flynn to Russia (and every other UN Security Council member) was Israel, not Russia. And, at least in this case, Kushner was "colluding" with Netanyahu, not Putin: https://t.co/RwGrtZMsZT

— Glenn Greenwald (@ggreenwald) December 3, 2017
Other news outlets slammed the Trump administration for having ties with Russia, but barely mentioned that Flynn was lobbying on behalf of Israel.
MSNBC hosts Rachel Maddow and Chris Hayes each went over the plea and said that it showed Trump's collusion with Russia, but neither made any substantive comments on the lobbying for Israel.
NBC did not mention Israel in their report until the 18th paragraph of their story, and only spent two short paragraphs on the subject. The New York Times did not mention Israel until the 23rd paragraph of their report, only spending two short paragraphs on it.
To their credit, the Times did say that Mueller's investigators have learned that Israeli Prime Minister Benjamin Netanyahu asked the Trump transition team to lobby other countries on the resolution.
In a report entitled, "Five reasons Michael Flynn's guilty plea is such a big deal," USA Today only mentions Israel once, in passing. CNN takes the same tact in a report, titled, "Michael Flynn's guilty plea is an absolutely massive problem for Donald Trump."
You can share this story on social media: