Police evict anti-fracking protesters from encampment in Olympia, Washington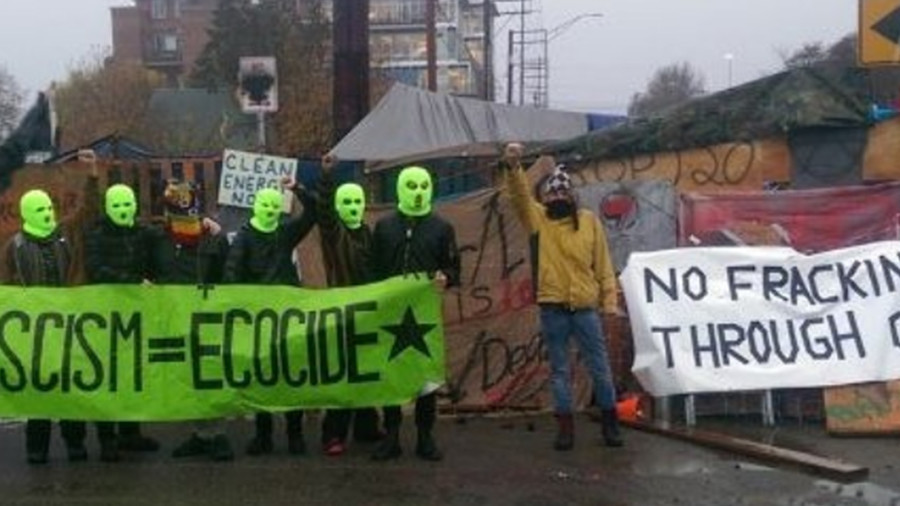 Dozens of police, dressed in riot gear and backed up by armored vehicles and a bomb squad, broke up a protest encampment in downtown Olympia, Washington. Anti-fracking activists blocked the tracks for 12 days.
Dozens of protesters blocked the two sets of railroad tracks in a makeshift campsite, dubbed Olympia Stand, to disrupt shipments to hydraulic fracturing ("fracking") businesses in North Dakota.
"Protesters had anticipated their arrival," said a tweet posted by Olympia Stand on Wednesday when police arrived at 5:00 am.
Olympia police warned people to say way from the area near downtown, where Union Pacific Railroad officers confronted 20-30 masked protesters, according to AP.
Led by local Native American tribes, protesters occupied the makeshift encampment on November 17 and wanted to block trains carrying fracking sand and related materials from the Olympia port.
The port handles cargo used in hydraulic fracking extraction process, which extracts oil and gas from rock. Railroad companies told AP there no such shipments were scheduled.
Seven days into the protest, the group had pressured the port enough to arrange a meeting with the activists. But 12 hours before the scheduled sit-down, police in tactical gear raided the camp in the middle of the night to allow a train to pass, Kyle Taylor Lucas, an indigenous rights activists, told the Washington Post.
A similar protest last year ended with a dozen arrests.
"This year it's much larger," Lucas told the Post. "Last year we only covered one of the tracks."
"What we are trying to do is resist the forced complicity in this brutal practice to devastate the earth," she said. "The various affinity groups here bring their own specific message and commitments and specific reasons for being here. But we came together for the common demands."