'So far it's not going well': Keystone spills massively exceed pre-construction estimates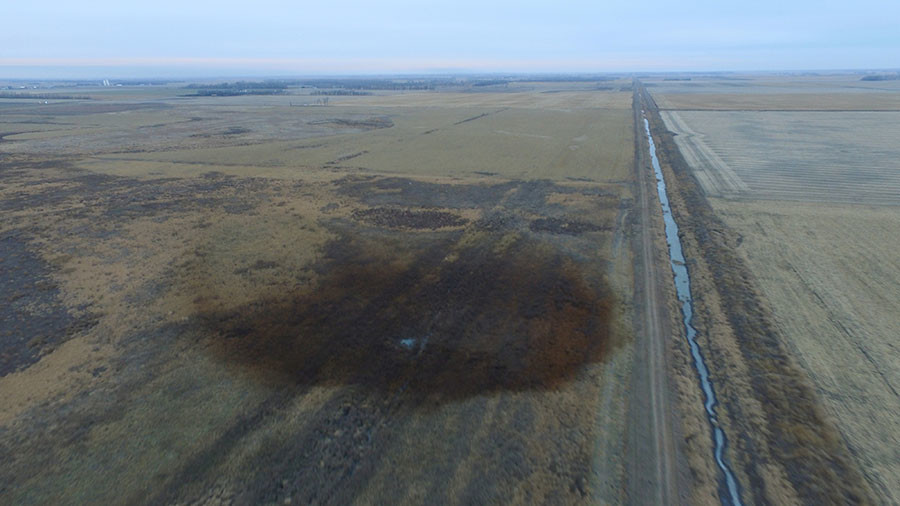 The operators of the 2,147-mile Keystone pipeline underreported the risks of oil spills to regulators, internal documents have revealed, casting a shadow over the proposed Keystone XL expansion.
According to TransCanada's projections, which have been unearthed by Reuters, the Keystone pipeline, which runs between Alberta, Canada, and Nebraska, would produce leaks of 50 barrels or more "not more than once every seven to 11 years over the entire length of the pipeline in the United States."
Since the pipeline opened in 2010, however, there have been three major leaks. About 400 barrels of oil were spilt in North Dakota in 2011, and again in South Dakota in 2016. A spill of 5,000 barrels took place yet again in South Dakota on November 16. The company still has not disclosed the cause as it continues the clean-up. TransCanada's report to regulators, produced by an outside risk assessor, said that a spill should have occurred along the South Dakota section no more than once every 41 years.
"They testified that this is going to be a state-of-the-art pipeline," Gary Hanson, a member of South Dakota's Public Utilities Commission, told Reuters. "We want to know the pipeline is going to operate in a fashion that is safe and reliable. So far it's not going well."
Hanson and the two other state commissioners said that they could withdraw TransCanada's permit to operate the 590,000-barrel per day pipeline until it identifies the reasons behind the repeated failures.
The wrangles, including a previous $135,000 fine and 13 enforcement cases against TransCanada, could endanger the future of Keystone XL. The extension was approved by US President Donald Trump in March, following years of opposition from environmental groups and residents, and a rejection from the Obama administration.
Keystone XL was given the go-ahead by Nebraska last week, albeit not along TransCanada's preferred route, meaning it likely will face a new series of negotiations, appeals and lawsuits. TransCanada said it will declare the fate of Keystone XL next month, among concerns about its viability with oil prices riding low.