Hazmat situation in Florida as train with molten sulfur derails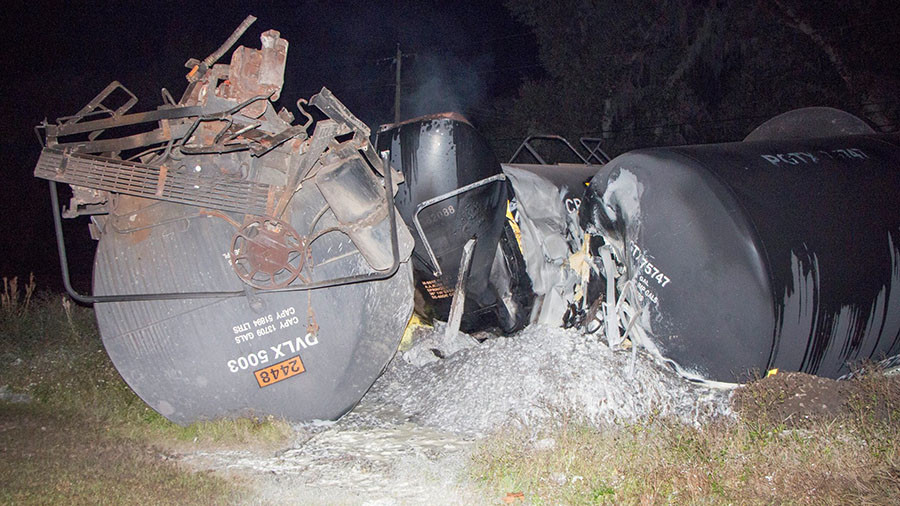 A train hauling molten sulfur has derailed in Lakeland, Florida, causing a chemical spill. The crash has been pronounced a hazmat situation, and officials have told residents to temporarily stay indoors and keep their windows shut.
A reported nine cars of the CSX railroad freight train derailed in the early hours on Monday morning, ABC Action News reported. At least four of the cars contained hazardous material, officials said, adding that several were reported to be leaking.
There was a small fire at the scene, officials told the news channel, adding that it was immediately controlled. When exposed to fire, sulfur can turn into poisonous gas.
The incident was initially discovered by a passing firetruck at around 1:50am local time, when firefighters saw rolled over and damaged train cars, WTSP reported. The chemical leak was then detected, with hazmat crews called in to contain the molten sulfur leak.
Transported as a liquid at about 290 degrees, sulfur cools and solidifies quickly if released. It smells like rotten eggs, and irritates the skin. So far, no injuries have been reported in the incident.
READ MORE: Amtrak train with 260 on board derails in Washington, nearly falls into bay (PHOTOS, VIDEO)
Officials have closed off roads in the area, warning that lifting the cars "is a very slow process." While no evacuation was in effect, officials told residents to stay indoors with windows closed and air conditioning off for several hours. Adults were later allowed outside, but were advised to keep children indoors and monitor them closely, according to local media.
The train had 120 loaded cars and 72 empty cars, according to WTSP, citing a statement from the CSX railroad operator, one of the largest in the US. Also carrying cardboard, oats, and rock, it was traveling from Waycross, Georgia to Winston, Florida. The cause of the derailment is yet to be established.