Firefighters among dozens injured in chemical explosion & fire at New York cosmetic factory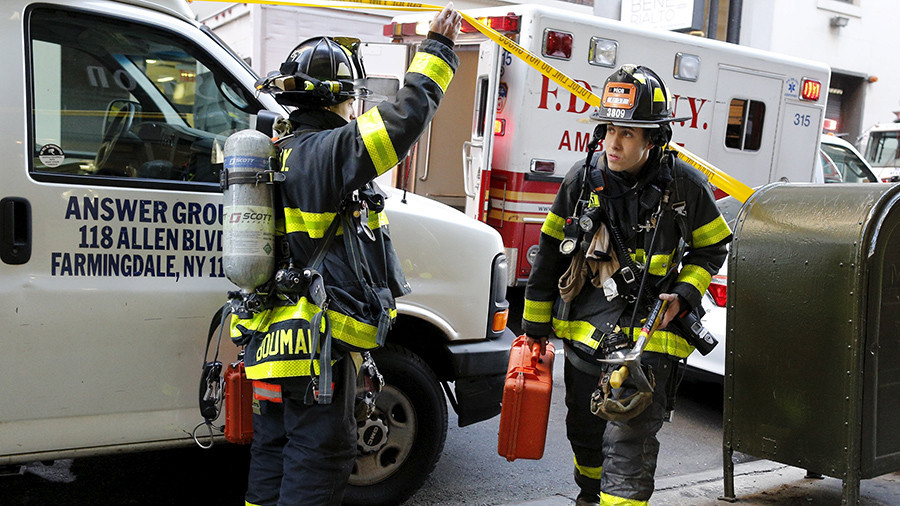 More than 30 people, including firefighters, were injured as two chemical explosions and a five-alarm fire struck a cosmetic factory in Hudson Valley, New York.
The first explosion occurred at about 10:19am local time Monday at the Verla International cosmetics factory in New Windsor, 55 miles north of New York City.
Firefighters were responding to the scene when a second explosion occurred half an hour after the first, injuring seven and causing two firefighters to be transported to Westchester Medical Center for burns, according to Brendan Casey, Orange County commissioner of Emergency Services, during an afternoon press briefing.
Video from the scene showed thick, black smoke spewing from a section of the roof in the sprawling facility, which includes manufacturing and warehouse buildings.
Workers milled about in a parking lot while fire crews looked on. There was no word on what caused the fire.

Among the more than 30 people injured, 15 were Verla employees. The injured either made their own way to hospitals or were brought in by ambulance. None of the injuries were life-threatening, officials said. Among the injuries were burns, smoke inhalation, and falls when the explosion happened.
New York Governor Andrew Cuomo ordered a full state response. The five-alarm fire brought 30 different fire departments to the scene, with 120 firefighters.
The company has existed since 1980 and makes nail polish, perfumes, lotions and other products, according to the website. There were 250 employees who worked at the 52,000 square foot factory. One person is still unaccounted for.