'Free speech' activists met by hundreds of counter-protesters in Boston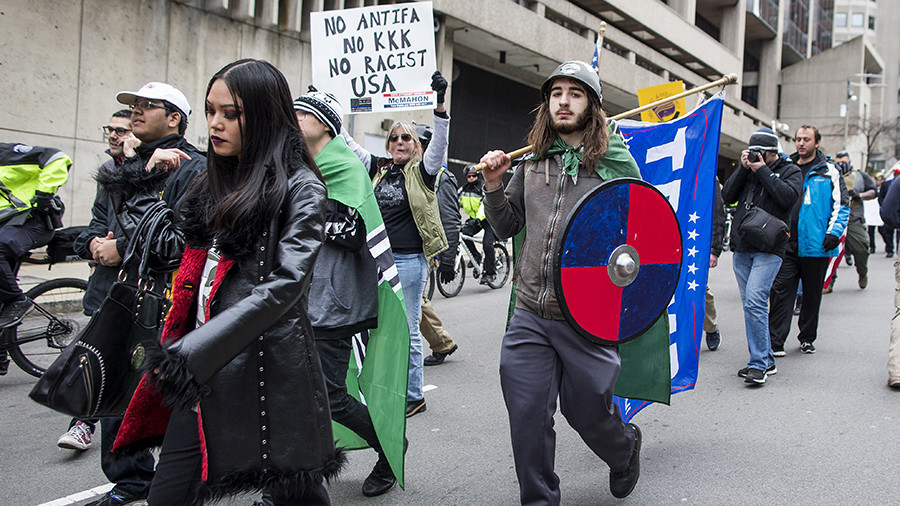 A "free speech" rally took place on Boston Common on Saturday under heavy police scrutiny. As with an earlier rally in August, those in attendance were heavily outnumbered by counter-protesters, including black-and-red clad "antifa."
The Rally for the Republic, organized on Facebook by the groups Resist Marxism and Boston Free Speech, was denied a permit by the city's authorities but went ahead anyway under police supervision. A relatively small group of several dozen protesters were met on Boston Common by a much larger group of counter-demonstrators, where a number of minor tussles broke out between the two sides. One man carrying a Gadsden flag – a rattlesnake on a yellow background and a "don't tread on me" slogan – was set upon by a group of counter-protesters, prompting police to intervene. The rally then moved to the Parkman Bandstand, where officers searched people for weapons.
At the bandstand, speakers claimed that free speech was under threat and that Black Lives Matter and Antifa were terrorist organizations. The event played host to several right-wing speakers, including Kyle Chapman (aka "Based Stickman"), renowned in online circles for smashing a wooden post over an anti-fascist protester's head at a Berkeley rally earlier this year, and a number of the attendees wore "Make America Great Again" caps.
The counter-protesters, meanwhile, said they came to oppose racism, fascism and white supremacy.
"I'm out here because I'm absolutely disgusted with our president not being able to do the simplest thing denouncing Nazis. That is reprehensible, I cannot tolerate that," one woman told RT's Ruptly video agency. "But I can't stand still and just let these people spew hatred all over country."
"I'm here as [a member of] Veterans for Peace. I think we have first-hand experience about violence. And it is something that, a message that we have given from our experience that we don't believe in it. We want to have it stopped," said another counter-demonstrator. "This is not the America that we fought for."
Resist Marxism, however, has repeatedly and stringently denounced white supremacism and any other kind of racism, while the free speech rally also drew in a few leftists who agreed with the principle of free speech if not how their fellow demonstrators were using it.
"You may be against this speech today, but they might go against your speech tomorrow," the Boston Globe quoted Pittsfield lawyer and Bernie Sanders supporter Rinaldo Del Gallo III as saying. "I'm here to protect all of it."
"We should have an antifa guy speaking," added another attendee. "Everybody should have their say at the table."
As proceedings drew to a close at around 1:30pm, fights broke out between black-clad counter-protesters and police, in which at least one cop was seen hitting an activist in the shoulder. Three men were arrested in total – two for disorderly conduct, and one for assaulting a police officer.
The previous free speech rally took place in Boston on August 19, where again attendees were vastly outnumbered by counter-protesters. That time 33 people were arrested, mainly for throwing rocks and bottles of urine at police in riot gear. The event had to finish an hour early due to the speakers being shouted down by a crowd of up to 40,000 counter-protesters.