What the flock? Bird crashes head-first through jetliner's nose midflight (PHOTO)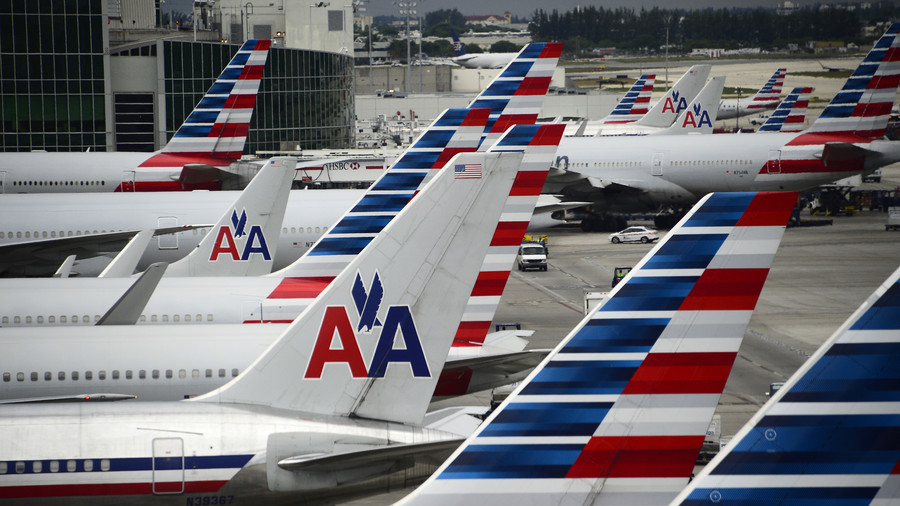 Ground crews found a very unusual "stowaway" aboard an American Airlines flight as it taxied to the tarmac at Miami International Airport.
A bird became lodged in the shell of the Airbus A319 after striking the nose cone while approaching the South Florida airport from Mexico City. The plane landed safely and the animal was spotted as the airliner taxied to its gate at around 11am Wednesday. No-one was injured in the incident.
The bird strike follows a similar incident last month in which a charter plane carrying NBA stars from the Oklahoma City Thunder was hit by an unidentified object on its way to Chicago-Midway.
Pictured after landing, the Delta Airlines Boeing 757-200's nose was seen to be badly dented and scratched. After disembarking, Carmelo Anthony, the team's star player, posted an image of the damage to social media.
Back in 2009, a US Airways pilot pulled off an incredible landing on the Hudson river after the passenger plane was struck by geese, with passengers and crew rescued from the stricken airliner by boat.
According to the latest figures from the Federal Aviation Administration, there have been more than 142,000 wildlife strikes with civil aircraft in the US since 1990, around 90 percent of which occur below 3,500ft.