Court reverses conviction of US Marine who urinated on dead Taliban fighters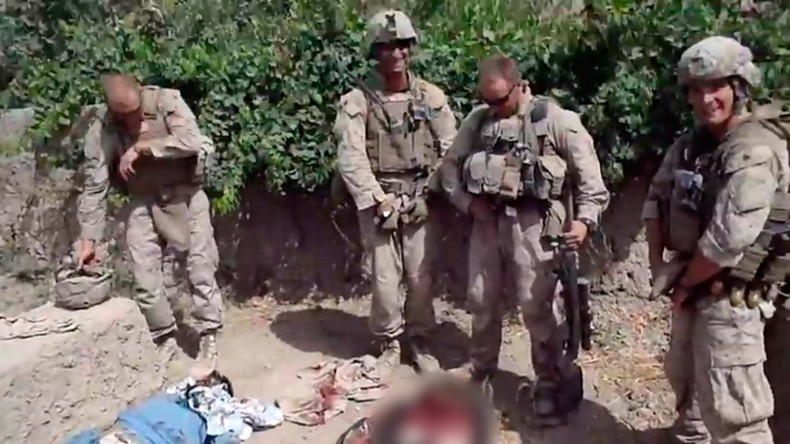 A former US Marine sentenced for urinating on the corpses of Afghans believed to be Taliban fighters in 2011 has had his conviction overturned. An appeals court ruled the Marine Commandant, who was seeking harsh punishment for those involved, had interfered in the trial.
The Navy-Marine Corps Court of Criminal Appeals overturned the previous ruling and all charges against Joseph Chamblin were dropped. Wednesday's ruling comes five years after his initial trial, Military.com reported.
Read more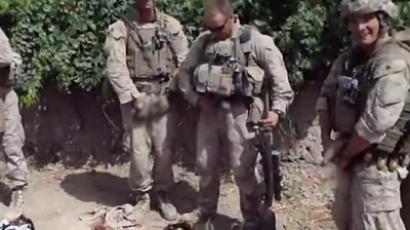 The infamous incident took place in July 2011 in Afghanistan's Helmand province. Footage of it leaked to YouTube in January 2012. The video shows a group of Marines joking and laughing while urinating on three corpses, believed to be that of Taliban fighters. "Have a nice day, buddy," one of the men can be heard 'telling' a corpse.
The incident attracted prominent media coverage and was condemned by top US and Afghan officials. Then-Defense Secretary Leon Panetta called the Marines' behavior "utterly deplorable" and promised an investigation, while then-Afghan President Hamid Karzai condemned their actions as "inhuman."
In December 2012, Staff Sergeant Chamblin pleaded guilty to charges of wrongful desecration, failure to properly supervise junior Marines, and posing for photographs with battlefield casualties. He was sentenced to 30 days confinement, had his pay docked, and was demoted to sergeant for participating in the incident. Staff Sergeant Edward Deptola and Sergeant Rob Richard were also convicted, while the other Marines involved received administrative punishment.
Chamblin did not express regret over the incident following his conviction, stating that he would do it again given the opportunity. The urinating incident, he argued, would show aspiring jihadists their inevitable fate.
Read more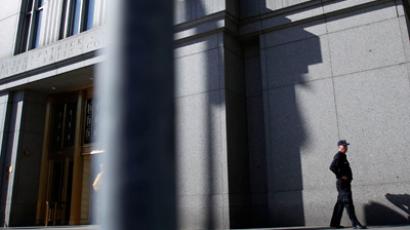 "[If] anything, it was more of a psychological effect on the enemy because if an infidel touches the body, they're not going to Mecca or paradise," Chamblin said. "So, now these insurgents see what happens when you mess with us."
General Jim Amos, commandant of the US Marine Corps at the time, considered the incident very serious and urged the officers supervising the case to "crush" the offending Marines, advocating harsh punishments for them. His involvement prompted allegations of him illegally manipulating the case, triggering an investigation against Amos as well. While the Pentagon cleared the general of the charges in 2014, his perceived interference in the case was cited by the appeals court as a reason to overturn Chamblin's conviction.
"The highest-ranking officer in the Marine Corps told [the officer, supervising the case] that the appellant and his co-accused should be 'crushed,'" the court said, as quoted by Military.com. "This is an unusually flagrant example of UCI [unlawful command influence]. We find that UCI this direct, and occurring at this level, is highly corrosive to public trust in this proceeding."
Citing the time that has passed since the initial trial, the court ruled to drop all charges against Chamblin instead of sending his case for a retrial. It's yet unclear whether Staff Sergeant Deptola and Sergeant Rob Richard, who were handed criminal sentences for their actions, would be affected by Wednesday's decision. The US government has 30 days to challenge the appeals court's ruling.