Early Comey memo accuses Clinton of 'gross negligence,' a federal felony – report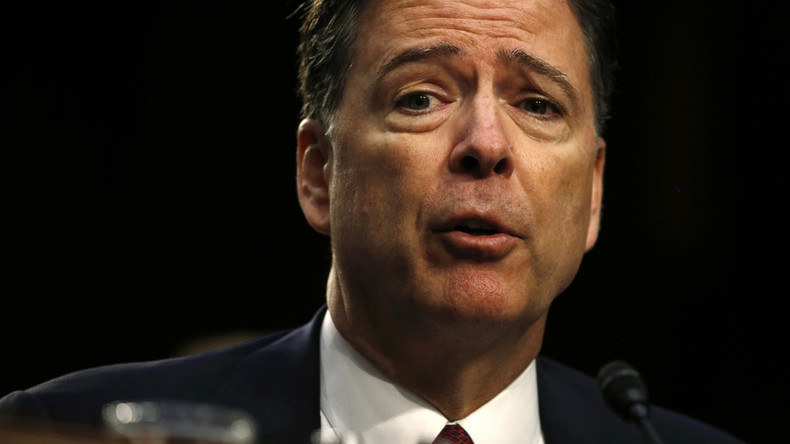 New memos presented to Congress show former FBI director James Comey initially accused ex-Secretary of State Hillary Clinton of "gross negligence" in her handling of classified information, a crime punishable by imprisonment, according to a new report.
In an early draft statement on the investigation into Clinton's use of a private email server, the FBI reportedly said there was evidence that she and her team were "grossly negligent" in handling classified information, The Hill reported Monday.
"There is evidence to support a conclusion that Secretary Clinton, and others, used the email server in a manner that was grossly negligent with respect to the handling of classified information," the early statement said, according to multiple anonymous sources.
The statement was reportedly edited. The phrase "grossly negligent" was replaced with a less incriminating phrase, accusing Clinton and her team of being "extremely careless" in their handling of classified information.
The small edit has big implications, since gross negligence in handling the nation's intelligence is a felony under federal law. Section 793 of federal states that anyone found guilty of "gross negligence" in handling the nation's intelligence can be imprisoned for up to 10 years.
"Apparently, as of May 2016, then-Director Comey and other FBI officials believed the facts fit that gross negligence standard until later edits were made," said Senator Chuck Grassley (R-Iowa), chairman of the Senate Judiciary Committee, according to The Hill.
The documents were reportedly provided to the Senate Judiciary Committee over the weekend. The committee has been in charge of looking into the FBI's handling of the Clinton email probe.
The sources told The Hill that three top FBI officials helped Comey write and edit the statement, including Deputy Director Andrew McCabe, General Counsel James Baker and chief of staff Jim Rybicki. However, the sources also said there was no indication of who made the changes to the gross negligence phrase.
The Senate Judiciary Committee reportedly sent a letter to current FBI Director Christopher Wray on Monday, demanding the FBI to reveal who was behind the changes.
At a press conference in July 2016, Comey announced that the FBI was not supporting charges against Clinton because they did not find "clear evidence" that she had "intended to violate laws governing the handling of classified information" by using a private server to transmit classified information.
Comey specifically mentioned the FBI looked into whether Clinton and her team violated federal law "either intentionally or in a grossly negligent way," but said they only found evidence that they were "extremely careless in their handling of very sensitive, highly classified information."
"Although there is evidence of potential violations of the statutes regarding the handling of classified information, our judgment is that no reasonable prosecutor would bring such a case," Comey said.
Days after making his statement, Comey testified before Congress that he did not think Clinton should be prosecuted under the law, since the FBI "did not find evidence sufficient to establish that she knew she was sending classified information beyond a reasonable doubt to meet the intent standard."
"We don't want to put people in jail unless we prove that they knew they were doing something they shouldn't do. That is the characteristic of all the prosecutions involving mishandling of classified information," Comey said.
Comey also said that the Justice Department had "grave concerns about whether it's appropriate to prosecute somebody for gross negligence," adding that he only knew of one case involving gross negligence in the 99 years since the bill was passed.
One source told The Hill that the draft will reignite Republicans' interest in the investigation.
"The red-line history clearly shows the original statement was designed to allege Clinton committed gross negligence and then someone changed it to extreme carelessness," a source told The Hill. "Clearly there was a difference of opinion on the term derived right from the statute."
You can share this story on social media: