Woman fired for 'obscene' gesture aimed at Trump's motorcade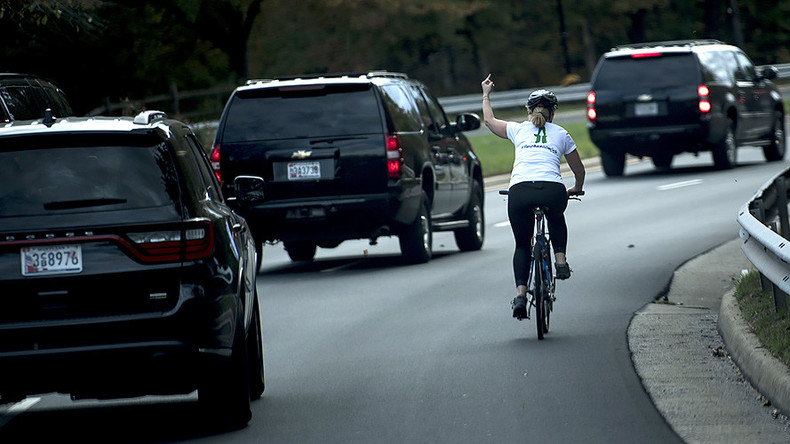 A woman has been fired from her job after a photo of her making a rude gesture at President Donald Trump's motorcade went viral. The government contractor she worked for called it 'obscene.'
As the presidential motorcade headed out of the Trump National Golf Club in Virginia on October 28, a cyclist "saluted" it with a middle finger. A photo of the incident quickly went viral on social media.
After the cyclist admitted to her bosses at Akima LLC that she was the one in the photo, she was fired. Her employer said she had violated the company's social media policy.
"They said, 'We're separating from you," Juli Briskman, a mother of two, told HuffPost. "Basically, you cannot have 'lewd' or 'obscene' things in your social media. So they were calling flipping him off 'obscene'."
Because Akima is a government contractor, the photo could hurt the company's business, Briskman said they told her.
Briskman, 50, cited the section of the company's social media policy that reads: "Covered Social Media Activity that contains discriminatory, obscene malicious or threatening content, is knowingly false, create [sic] a hostile work environment, or similar inappropriate or unlawful conduct will not be tolerated and will be subject to discipline up to an [sic] including termination of employment."
Akima has not returned calls or emails to press inquiries. On Monday afternoon, the company's website appeared to be inaccessible.
Working in marketing and communications for Akima for only six months, Briskman told the Washington Post there was nothing to link her to the company on her social media accounts, and when she posted a copy of the photo, she made no comment. The only account that connected her to the company was LinkedIn.
Virginia is an employment-at-will-state, meaning that employers can fire people anytime and for any reason.
One White House pool report for October 28 made a note of Briskman's gesture.
"POTUSs motorcade departed the Trump National Golf Club at 3:12pm, passing two pedestrians, one of whom gave a thumbs down sign. Then it overtook a female cyclist, wearing a white top and cycling helmet, who responded by giving the middle finger. The motorcade had to slow and the cyclist caught up, still offering the finger, before turning off in a different direction," wrote David Smith of the Guardian.
Briskman told HuffPost her "blood just started to boil" when she saw Trump's motorcade.
"I'm thinking, DACA recipients are getting kicked out. He pulled ads for open for open enrollment in Obamacare. Only one-third of Puerto Rico has power. I'm thinking, he's at the damn golf course again," she said. "I flipped off the motorcade a number of times."
A Democrat, Briskman said she plans to look for a new job with an advocacy group that she believes in, such as Planned Parenthood or PETA. She added she has no regrets and is happy to be an image of protest that resonates with many Americans.
"In some way, I'm doing better than ever," she said. "I'm angry about where our country is right now. I am appalled. This was an opportunity for me to say something."
You can share this story on social media: