Chainsaw suicide: Police called to domestic brawl find gruesome scene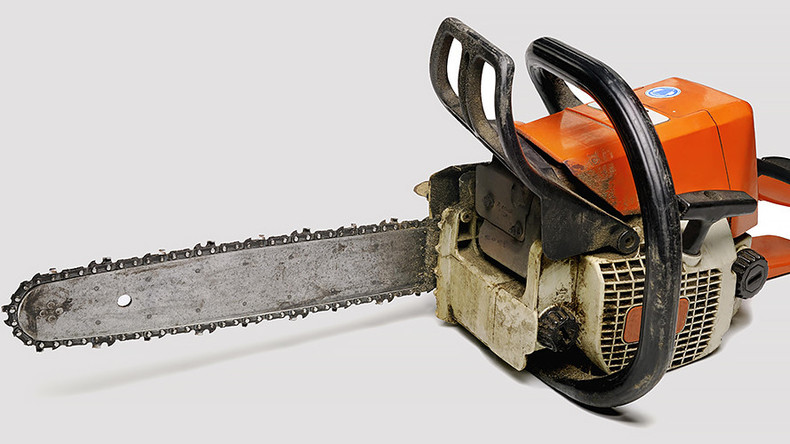 An elderly man reportedly used a chainsaw to take his own life after hacking at his wife with an ax during a domestic dispute in Fairfax County, Virginia. The woman survived and was taken to the hospital with non-life-threatening injuries.
The incident occurred in the Springfield Hills Drive area at about 3:30pm Wednesday as police were alerted to an ongoing assault.
BREAKING: Police say man attacked woman in Springfield neighborhood, then committed suicide with what's believed to be a chainsaw. Domestic. pic.twitter.com/3CNV3c1qLc

— Kevin Lewis (@ABC7Kevin) November 1, 2017
As they arrived at the scene, the suspected perpetrator went into hiding inside the house.
Shortly afterward, an officer was able to locate the suspect inside the garage, a police spokeswoman said, noting that his injuries were "consistent with that being caused by a chainsaw." Upon raiding the house, the officers found the man dead from what appeared to be self-inflicted chainsaw wounds.
"Male suspect passed away from self-inflicted injuries that appear to be from a chainsaw. Investigation underway," Fairfax police reported on Twitter.
The spokeswoman added that the suspect hit the woman several times with the non-bladed edge of an ax.
ABC's correspondent on the scene reported that the man, aged 70, was armed with an ax when he rushed at his 76-year-old wife, aiming at her face and neck during what appeared to be a domestic brawl. The man's step-daughter managed to overpower him, forcing the attacker off the woman and taking away the ax. The man then went into the house, where the arriving police found him.
On what appears to be a record of an officer's radio call, he can be heard repeatedly and agitatedly saying: "Get me a trauma kit!"
POLICE RADIO: "Get me a trauma kit up here! Get me a trauma kit!" - Fairfax County Police officer shouts into radio during domestic chainsaw attack call in Springfield neighborhood. pic.twitter.com/XH1pvsIwWl

— Kevin Lewis (@ABC7Kevin) November 1, 2017
The female victim was admitted to hospital with lacerations, with police saying that her injuries were not life-threatening.
Suicide by chainsaw may not be the most conventional way of taking one's own life, but it does happen.
A 49-year-old man in Merced, California, attempted to cut his throat with a 2-foot-long chainsaw in a parking lot of a local grocery store in September. The man suffered serious injuries but was expected to survive after police promptly intervened.
A grim incident similar to the one that happened Wednesday took place in suburban Philadelphia, Pennsylvania, in 2015, when a man killed his wife with a chainsaw, before taking his own life.
A 47-year-old woman slit her throat with a chainsaw at her Los Angeles home in 2012, leaving a suicide note behind. It was suspected she was suffering from depression.
You can share this story on social media: