3 dead in shooting at Walmart in Colorado – police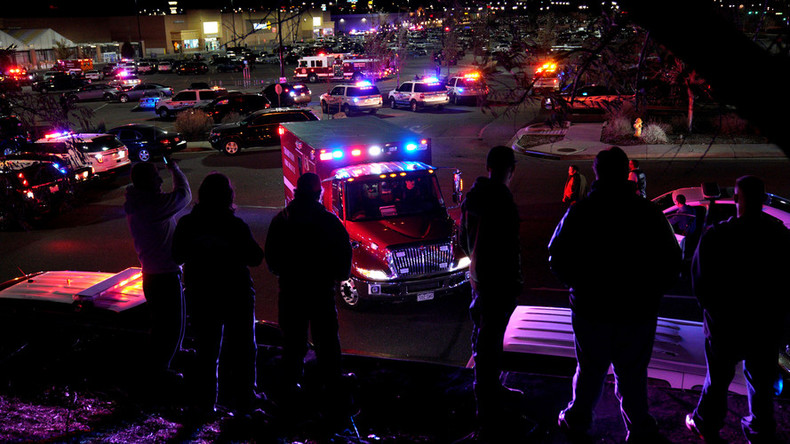 Police are urging people to stay away from a Walmart in Thornton, Colorado, where three people have died from a shooting. There is no suspect in custody.
A massive police presence has responded to the Walmart at 9900 Grant Street, after a shooting shortly before 6:30pm local time (8:30pm Eastern).
Three adults were killed, two men and a woman. Initially, the two males were the only deaths, and one the female had been transported to a hospital, Thornton police confirmed shortly after 8:00pm local time.
As of 9:10pm local time, Thornton police detectives are assessing security camera footage and interviewing witnesses to get a description of the suspect and other information about the suspect.
The store was "self-evacuated," Avila said, as customers and employees ran away from a volley of gunshots.
Aurora Police Chief Nick Mets tweeted that the Aurora SWAT team was responding to assist as needed.
Earlier, Mets tweeted "prayers with the people of Thornton" and emergency responders.
Police have confirmed this is not an active shooter situation.
Thornton is a city 11 miles north of Denver and has a population of around 136,000.
Local news reporters are near the scene talking with witnesses who either evacuated the Walmart or were close enough to witness the commotion afterward as police and emergency responders arrived.
Accounts from witnesses are conflicting and unconfirmed.
One shopper who captured video from inside the evacuated Walmart told local reporters that the shooter walked out of the Walmart, but then he would not provide further comment.
Some witnesses reported hearing up to 11 gunshots, while others reported hearing about multiple shooters using fully automatic rifles.
Other people said they knew friends or colleagues still inside the Walmart hiding.
Police were seen escorting some people out of the Walmart and into a van shortly before 8:00pm local time.
You can share this story on social media: