Petition to impeach Trump reaches over 1mn signatures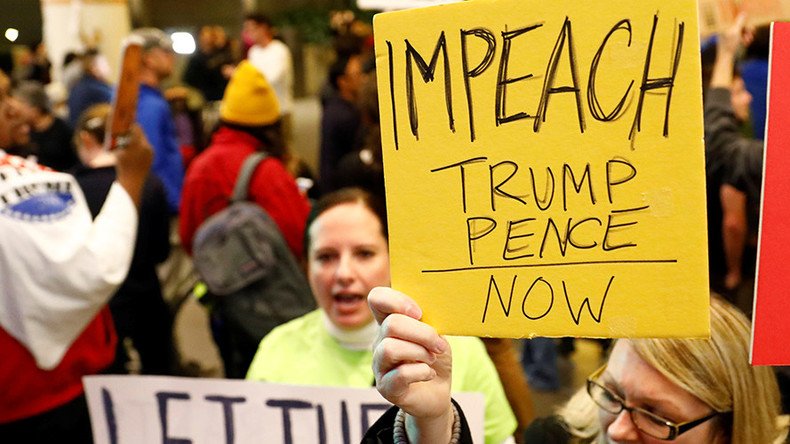 Over a million people have signed a petition seeking to impeach President Donald Trump for allegedly violating the US Constitution. The petition, promoted through advertisements and letters to lawmakers, has the backing of a billionaire Democratic donor.
Former hedge fund manager Tom Steyer, who runs the website NeedToImpeach.com, told Axios on Tuesday that 1,119,720 people had added their names to the petition.
Steyer started a $10 million initiative to push for the impeachment of Trump on October 20, writing to Democrats on Capitol Hill and to mayors and governors nationwide arguing that they "have a duty to speak out" on impeaching the Republican leader.
"This is not the time for 'patience' – Donald Trump is not fit for office. It is evident that there is zero reason to believe he can be a good president," Steyer wrote in the three-page letter.
"He is a clear and present danger to the United States of America," Steyer argued, citing Trump's alleged ties to Vladimir Putin and Russia, his conduct during the Charlottesville riots, pulling out of the Paris climate accords, "his willingness to exploit the office of the Presidency for his personal gain and treat the government like a family enterprise," and his alleged violations of the Constitution's emoluments clause.
READ MORE: 'Uncharted waters': Judge questions reasoning behind Trump Emoluments lawsuit
The Democratic mega-donor also bought ads on TV and in social media demanding Trump's impeachment, arguing that the president threatened the US Constitution.
"Our freedoms, and our lives. It's time to begin impeachment proceedings. Join us," the ads urge.
Steyer argues that Trump has met "the standard for impeachment" long ago, between obstruction of justice claims and questions about violating the emoluments clause.
On Monday, Steyer said the indictments by special counsel Robert Mueller "put us in a place where impeachment is firmly on the table... from now on, every conversation about the administration has to include when he's going to be impeached."
Mueller has indicated two people with ties to the Trump's presidential campaign. Former campaign manager Paul Manafort and his business partner Rick Gates face 12 charges, including conspiracy to launder money, violations of the Foreign Agents Registration Act and conspiracy against the United States.
The Trump administration has said that the conduct Manafort and Gates are charged with had nothing to do with the campaign.
George Papadopoulos, a volunteer foreign policy adviser to Trump's campaign, also pleaded guilty to lying to the FBI, over meetings he supposedly had with people alleged to have ties to the Russian government.
Steyer's campaign might be politically motivated, Newsweek reported, as the donor's name has been floated as a potential challenger to Senator Dianne Feinstein (D-California), who said earlier this month she intended to run for a fifth term despite being 84 years old.
Steyer's ad has even caught the attention of Trump, who responded by calling him "wacky" and "unhinged" in a tweet.
Only two presidents in US history have ever been impeached – Andrew Johnson and Bill Clinton – and neither was successfully kicked out of the White House.
You can share this story on social media: