Gaps emerging in story of sailors 'stranded at sea for 5 months'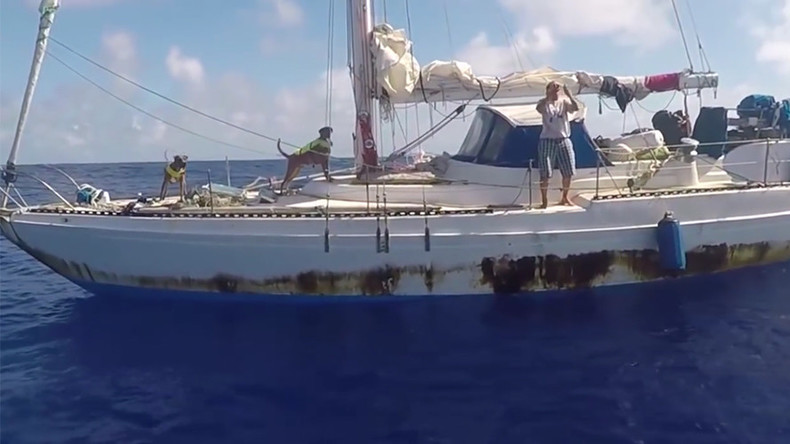 Two women who claim to have been stranded at sea for five months after being struck by a tropical storm may have invented the whole story, according to the US Coast Guard and National Weather Service.
U.S. Coast Guard spokesman Lt. Scott Carr said Monday that the women never activated their Emergency Position Indicating Radio Beacon (EPIRB) which would have alerted authorities to their situation within minutes and initiated an immediate emergency rescue response.
"We asked why, during this course of time, did they not activate the EPIRB. She had stated they never felt like they were truly in distress, like in a 24-hour period they were going to die," said US Coast Guard spokeswoman Petty Officer 2nd Class Tara Molle, as cited by the AP.
Jennifer Appel and Tasha Fuiaba began their journey from Hawaii to Tahiti, in French Polynesia, last spring before allegedly being struck by a tropical storm on May 3, their first day at sea. The storm boasted 60mph (97 kph) winds, creating 30ft (9-meter) seas and allegedly lasted for a total of three days, severely damaging their boat, including its engine and its mast and rigging.
"We got into a Force 11 storm, and it lasted for two nights and three days," Appel said. "We were empowered to know that we could withstand the forces of nature. The boat could withstand the forces of nature."
The women reportedly began sending distress calls daily when they were two months into their ordeal but were too far from shipping lanes and dry land for the signals to be picked up. They were rescued five months later by the USS Ashland, having survived using water purifiers and the year's worth of food on board.
However, as the US Coast Guard's investigation has continued, more and more holes are appearing in the women's story.
Firstly, no such storm systems were registered by the National Weather Service in the area throughout May. Secondly, in interviews, the women referenced a total of six communications devices all of which the pair claimed had died. They neglected to mention the EPIRB, which activates once submerged in water or switched on manually, and uses communications satellites to alert authorities on dry land within minutes.
The Coast Guard also reportedly made contact with a vessel identifying itself as the Sea Nymph in June, however, the captain did not allude to any damage sustained or flag any kind of distress, instead indicating that the boat was due to make land the following morning.
This conflicts with the timeline provided by the women as, by June, they had allegedly lost their engines and were adrift due to damage sustained to their rigging and mast.
"If the thing was operational and it was turned on, a signal should have been received very, very quickly that this vessel was in distress," Phillip R. Johnson, a retired Coast Guard officer, said Monday, as cited by the AP.
"Failures are really rare," Johnson added. "I've never heard of all that stuff going out at the same time."
In addition, the women said they didn't turn around as the nearest harbors on Maui and Lanai couldn't accommodate their 50ft (15-meter) vessel. However, given that their boat is actually relatively small, this was a gross miscalculation. They also opted against making land several days later on Christmas Island, part of Kiribati, as they believed it was uninhabited and would not provide adequate shelter.
"It's uninhabited. They only have habitation on the northwest corner and their reef was too shallow for us to cross in order to get into the lagoon," Appel said.
The island has a population of roughly 2,000, has a large enough port to accommodate commercial tankers and also boasts two airfields. The women instead decided to set a course roughly 1,000 miles (1,609 kilometers) away, beyond their original destination of Tahiti.
The Coast Guard is reviewing the case but has not launched an official criminal investigation as of the time of writing.