Maryland shooter kills 3, as 5 schools placed on lockdown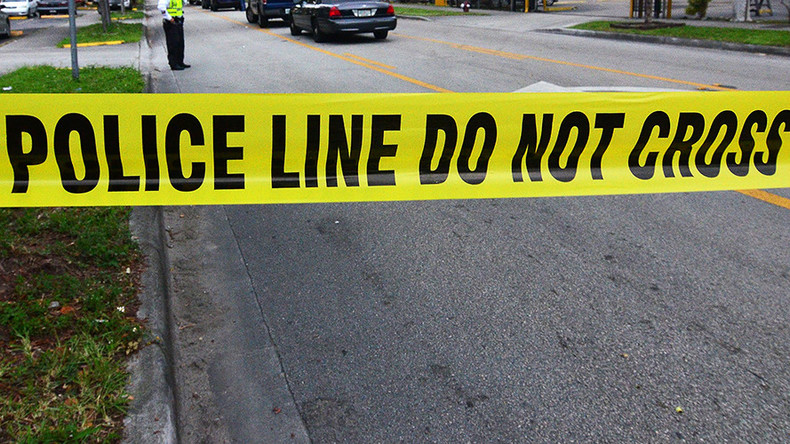 At least three people have been killed and two others critically injured after a shooter opened fire at a business park in Edgewood, Maryland. The lone gunman, who is also suspected of another shooting in nearby Delaware, has been apprehended.
The US Bureau of Alcohol, Tobacco, Firearms and Explosives (ATF) and "allied law enforcement agencies" have captured suspected gunman Radee Labeeb Prince, the Harford County Sheriff's Office tweeted Wednesday evening. The shooter was at large after the mass shooting earlier in the day.
A number of schools in the area were on "modified lockdown" Harford County Sheriff's Office said, according to police.
"We can confirm we on the scene of a shooting in the Emmorton Business Park," the Harford Sheriff Department said.
The three dead victims are Enis Mrvoljak, 48, Jose Hidalgo Romero, 34, and Bayarsaikhan Tudev, 53. Five other people were injured, including two in critical condition.
Sheriff Jeffrey Gahler told reporters the suspect is Radee Labeeb Prince, a 37-year-old black male, was believed to be associated with the business.
Prince has reportedly been previously arrested 42 times and has 15 felony convictions.
Authorities received reports of the shooting at Advanced Granite Solutions at about 9am local time, WBAL reports. The suspect is believed to have used a handgun before fleeing in a black Chevrolet Arcadia with Delaware plates.
"Proceed with caution and call 911 if you believe you see him," Maryland State Police said in a post on Facebook.
Prince is also a suspect in a shooting that later took place in the neighboring state of Delaware.
A man was shot three times at a used car lot in Wilmington, authorities said. He has been hospitalized, but his condition is unknown, WCAU reported.
Prince is reportedly still using a vehicle taken from the lot. The Wilmington News Journal reports that he has family in the area.
"On the advice of the Harford County Sheriff's Office, these schools are currently on modified lockdown due to an incident in the surrounding community," the Harford County school district said.
"The modified lockdowns are being conducted in an abundance of caution. The modified lockdown requires students to remain in the building, with no outside activities."
Prince was fired from a previous job earlier this year because he punched an employee, according to The Baltimore Sun. A restraining order was taken out against him after he showed up at the business three times after being dismissed.
READ MORE: Las Vegas hotel security guard reappears on TV after mysterious absence
"He came back to our business justifying what he did was right because the other guy was saying some things that he did not like," the employee wrote, adding he "felt very threatened because he is a big guy and very aggressive on me."
At a press conference Wednesday afternoon, Sheriff Gahler confirmed Prince had worked at Advanced Granite Solutions for four months.
He added that the two people shot at Emmorton remain in critical condition.
"We have not identified those who were shot 100 percent, so we are not releasing the name of the victims." he said. Wilmington Police said all of the victims were known to the suspect.